[The Sun, Oriental Daily 19/2/2012]
Recently, there were rumors between Charmaine Sheh and Hu Jun who are filming new series in Mainland China. Yesterday, (during reporter visit) they didn't evade each other but behaved like buddies instead. The playful Charmaine even reached out her hand to touch his earring! They openly praised each other's acting.
TV Queen Charmaine Sheh recently advanced her career to Mainland China, collaborating with actor Hu Jun in series [The Legend of Yuan Empire Founder] directed by Tsui Siu Ming. Charmaine who often attracted rumors once again helplessly got rumored with Hu Jun. However, they did not evade each other despite the presence of reporters on set. They were chatting and laughing away. When Charmaine saw Hu Jun wearing the prop earring and wanted to touch it, Hu Jun laughed and moved aside exclaiming "Don't touch me!". Steven Ma, who has just left TVB also took part in the series. The three of them looked splendid in their unique Mongolian costumes.
As the freezing temperature was 1 degree Celsius, Charmaine will immediately hold her hand warmer during filming breaks. She revealed that she will be portraying 'the woman behind' Hu Jun and praised him as having excellent memory and acting vigor. He often gave out pointers to other actors. Hu Jun also have a good impression toward Charmaine. He re-watched [War & Beauty] after they collaborated: "Her acting is good! I heard that her recent series [When Heaven Burns] and [4 in Love] are really good, but unfortunately Mainland China is unable to watch [WHB]. Charmaine is very hardworking, and practiced hard speaking Mandarin. However I suggested her to recite her lines in Cantonese as the facial expression will be better. (Any intimate scenes?) Only hugging, no kissing. (What a pity?) Well, it's a costume series! Perhaps next time in a modern series."


Hu Jun expressed that he has considered becoming a producer, but felt that being an actor is much better. Would he collaborate with Charmaine again (if he produced movie)? Hu Jun joked: "She is very expensive. I'm afraid I can't afford her." He also pointed out that his daughter is complaining about his busy schedule. He tried his best to communicate with her through daily phone call. He revealed that he owns a ranch with horses in Beijing, and his 10 years old daughter is learning horse-riding at the moment. He hopes one day his daughter will be able to take part in equestrian vaulting competitions.
Receiving Hu Jun's praises, Charmaine indicate that she is humbled: "At first, it was nervous working with him. I feel stressed. Later, I found out that he is really nice. Luckily he suggested using Cantonese for my lines, I immediately feel relaxed! I hope we will collaborate again in the future. (He said you are expensive!) Not as expensive as him!"


Mentioning about the rumour of her reconciliation with Kevin Cheng, Charmaine calmly indicate that she knew he is also filming in Hengdian but they have not met each other.
Do not repost.
Sehseh: In the clip, Charmaine mentioned that Hu Jun advised her to use Cantonese during a difficult line in the series, as he also uses Mandarin when he filmed Hong Kong movie, because their facial expression will be more natural.
Pics, credit as labeled: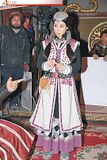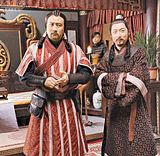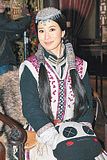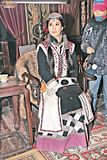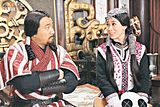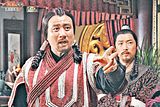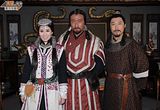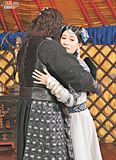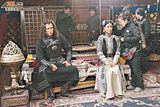 VOTE FOR CHARMAINE @ NEXT TV AWARDS 2012 NOW!