It's that time of the year again! And as usual, I will provide an easy, step by step guide for fans to vote for Charmaine. Please read my instructions carefully before you vote, because

every TVB account can only vote once

.
IMPORTANT: PATIENCE REQUIRED
1. First, go to the voting site at the address below:
http://event.tvb.com/42nd/voting/

2. The first page you land will be the 'Best Actor' category. Pick your choice by ticking the box in their picture. You can choose ONE only.
3. If you have not logged into your TVB account yet, you will be asked to login. If you do not have a TVB account, you can choose to register. Don't worry if you do not know English, there's an option to switch to English in the top right of login/register page. If you are registering, use your real email address, because TVB will send you a validation email to activate your account.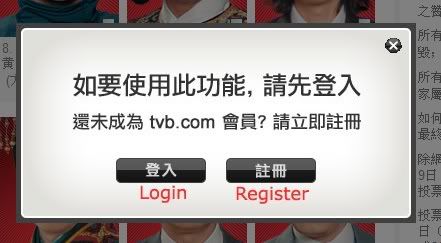 After you login, you will be brought back to the Best Actor page.
4. Again, tick on your choice. To confirm and proceed to the next category, press the confirm button on lower right.

5. You will be brought to Best Actress category. Charmaine is nominated in this category.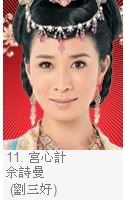 Click No 11. Charmaine Sheh - Lau Sam Ho (Beyond the Realm of Conscience)
Again, click the confirm button in lower right (like step 4) to continue.
6. Next is the Best Supporting Actor, Best Supporting Actress, Favorite Male Character categories. Vote as usual like step 4.
7. Charmaine received two nominations for Favorite Female Character award. You can choose ONE only.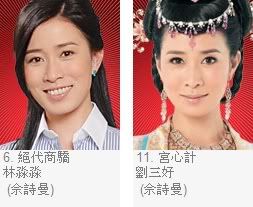 6. Charmaine Sheh - Lam Miu Miu (You're Hired)
or
11. Charmaine Sheh - Lau Sam Ho (Beyond the Realm of Conscience)
Tough choice here, because fans vote will be divided in two, hence reducing Charmaine's chance of winning. Therefore fans are encouraged to vote for the same character to increase her winning chance.
The official fanclub have made decision - to unanimously vote for Lau Sam Ho.
7. Afterward there are Most Improved Male, Most Improved Female, and Best Show Host. Vote as usual like step 4.
8. Three of Charmaine's series are nominated for Best Series. You can choose ONE only.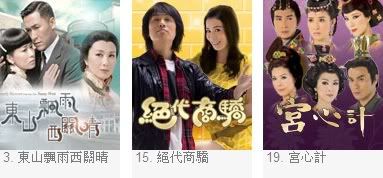 3. When Easterly Showers Fall on the Sunny West
15. You're Hired
19. Beyond the Realm of Conscience

[Beyond] is [Rosy Business] main competitor in this category, therefore please vote for 19. Beyond the Realm of Conscience.
8. Next is Best Variety Show, vote as usual like step 4.
9. Last but not least is the TVB.com Popularity Award. Charmaine is also nominated in this category. No 52 - Charmaine Sheh
.

9. Click confirm on lower right button and you will be asked a quiz question.
The answer is 3. 42 years.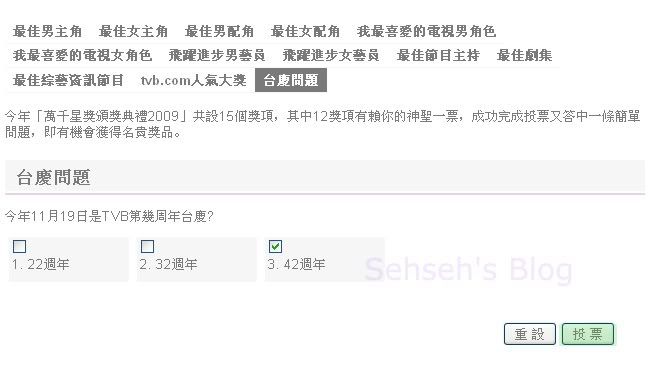 10. Click on 'confirm' button on lower right and a pop up page requesting for HK ID number will appear.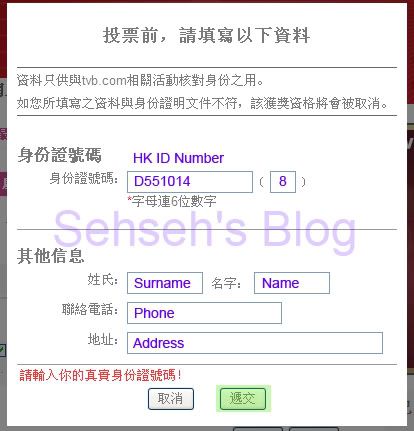 If you are not a HK citizen, this is where the
ID generator
(click to download) come in handy.
11. Download and run the file (if your pc doesn't support Chinese character, the words on the software might be jumbled up, but don't worry, follow my instructions and it will still work).
Note: Do not use the sample number below, or else everyone used it and end up disqualifying each other's vote!
1. Select Hong Kong from the scroll bar.
2. Click 产生 button to generate ID number
3. Click (2) until a HK ID with 8 digit including alphabet appears. Sometimes it will generate 9 digit, but TVB.com only accepts ID number with 8 digit.
4. Copy and paste the first 7 digit (alphabet + number) into the first box in step 10. (Sample in the pic 'D551014')
5. Paste the remaining one digit in the last box. (Sample in the pic '8')
6. Type in your surname and name
7. For phone number, enter any 8 digit starting with either 2, 6, 8 or 9.
8. Put in any HK address (just Hong Kong is good enough)
9. To confirm, click the lower right button as highlighted in step 10.
If you have trouble downloading from sendspace, there's rapidshare link in the Comments section below.
12. You will be brought to a page where all your votes will be listed out for your review. Check to see if you have made any mistakes. If everything is correct, click on the lower right button to confirm.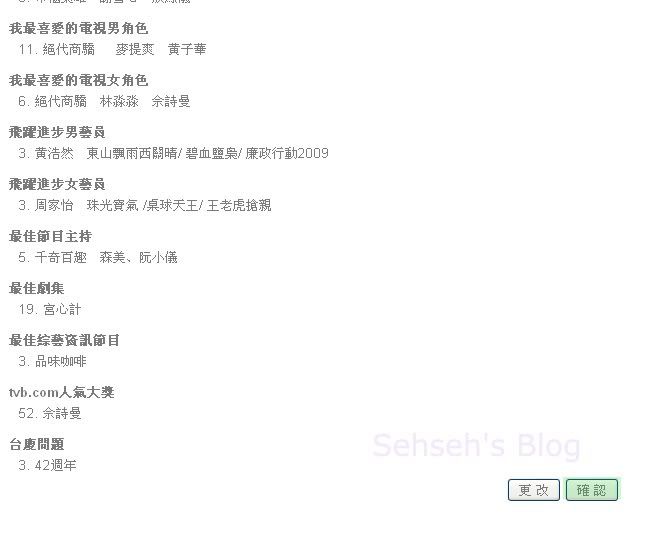 13. You will be brought to a 'Thank You' page and voila you are done voting!
Note:

If you get this message instead: 投票失敗,請稍後重試! That means your vote is unsuccessful. Try voting from a pc/laptop with fixed IP connection instead.
Voting officially ends on November 29, 2009 (11:59pm)
Go ahead and vote for Charmaine now!!! Please support Charmaine!!! Add oil!