[On.cc, Oriental Daily, The Sun 08/11/2009]
Last evening around 9pm at Central, Charmaine Sheh filmed an outdoor scene for new series [Heaven & Earth]. The scene is about Charmaine suffering from insomnia after her boyfriend's death. Her character cleaned up her house and took out many garbage bags containing wine bottles to the dumpster. During filming, a lot of onlookers surround the scene and some even flashed their camera. It affected the filming progress and Charmaine have to keep re-shooting the scene.
Many onlookers also praised Charmaine as very beautiful in person and have nice skin. When she is not filming, Charmaine will chat happily with the filming crew. When asked about her love life, Charmaine clearly indicate: "I am still single, but I'm not in a hurry to date. Currently work is most important." When discussing about the anniversary award, reporter mentioned that Sheren have enlisted help from a celebrity as a stylist, Charmaine said: "I also need to work harder to look for sponsors."
Note: I did not translate the rest of the article, which feature silly remark about Sheren and Charmaine 'fighting' by shopping for clothes and going to facials. Duh...
Please do not repost.
On.cc TV clip
Some extra filming pics from tabloid mag: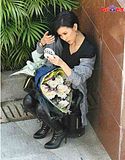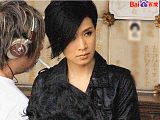 Remember to support and vote for Charmaine @ TVB 42nd Anniversary Award!