Note: No repost of the news translation. If you wish to repost the images, kindly upload them to your own image hosting server first - no hotlinking. Thank you for your co-operation.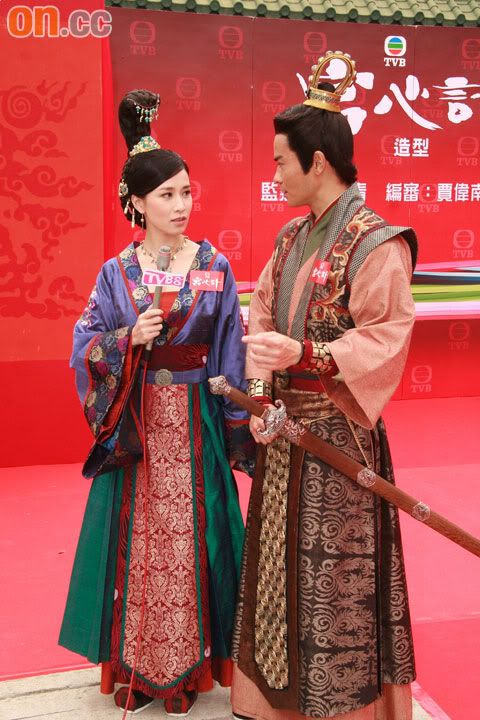 [Oriental Daily 17/02/09]

Charmaine Sheh, Kevin Cheng, Tavia Yeung, Moses Chan, Susanna Kwan, Michelle Yim, Selena Li and Tracy appeared in fashion show style for the costume fitting ceremony of TVB grand production [Beyond the Realm of Conscience]. The rumored couple Charmaine and Kevin appeared distanced and silent even though standing next to each other; zero interaction throughout the event. On the other hand onscreen pair Tavia and Moses laughed and played around till the end, a big contrast of Charmaine and Kevin.

Charmaine and Kevin did not interact during the event and Charmaine later explained that she was busy taking pictures therefore she doesn't have the chance to chat with Kevin. Charmaine was asked if she have any romantic scenes with Kevin in the series. "Should be the ambiguous kind of relationship. (Are you afraid of rumors again?) It's not in my control. (Do you feel embarrassed collaborating again?) I won't. (Didn't interact much today?) I don't have the chance; I'm busy taking pictures, how to chat? Plus I tried the costumes since 9:00am, feeling very sleepy."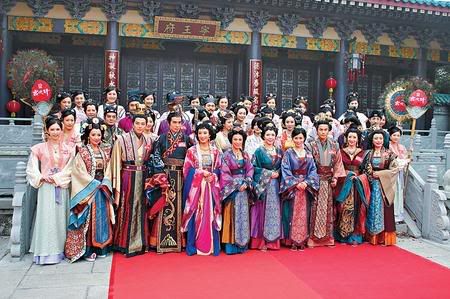 Mentioning the plot for [Beyond], Charmaine expressed: "Already read 12-13 episodes of script, I have high hopes for this series, the storyline is abundant. (Is your rumor with Kevin more attractive than the storyline?) It won't. The storyline is really good, the cast and crew put a lot of effort on it. (Are you afraid being followed by paparazzi during filming?) I think there will be (paparazzi), but it's useless to get worried."

Kevin expressed that his rumor with Charmaine is just publicity. It's a good thing that people are paying attention to [Beyond]. When asked why they looked so stiff, he explained: "The camera haven't roll yet, wait till the camera rolls." When asked if it's a big sacrifice to use his rumor with Charmaine as publicity: "No choice. I'll do my job."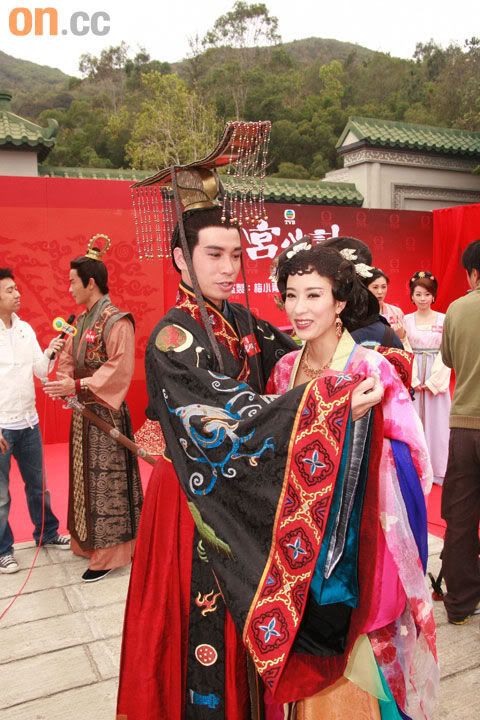 As soon as Tavia and Moses saw each other, they start to play around crazily. During taking pictures Moses pretends to hug Tavia and she laughed: "You are not afraid being called 'Salty Pork Hand?" In addition, Tavia who will be portraying a villain the series revealed that it's her first time portraying evil role: "The eyes expression is very important for a villain, therefore will be watching Liu Xiao Qing movies for preparation. (Worried will affect your image?) Not worried, I've portrayed good roles for many years, I want to portray different role, hope a villain role will give me a breakthrough."

Additional information from other news:

Moses will be portraying Emperor Xuanzong (Li Chen)
Tavia will be the evil concubine who started as sworn sister of Charmaine, later turned nemesis.
Susanna is Michelle's nemesis in the series. Susanna's character started as good person who is childhood friend with Michelle. She will not back down when being bullied by others.


So many types of costumes and hairstyles at [Beyond] costume fitting! Charmaine look nice and sweet in her costumes. I know a lot of you can't accept the hairstyles in the series, but seriously back in Tang Dynasty, the women love to wear their hair high and decorate them with flowers and golden hairpins. It's also consider the era where women's costumes are more colorful and revealing (yes they even have short sleeve!). Charmaine and Tavia should have many hairstyles in the series as they rise in ranks.

Here's some huge resolution images of Charmaine, courtesy of Charmaine Baidu Forum, Shehseeman.cn and Shehsheh.com: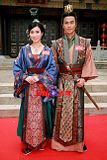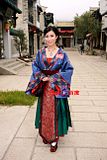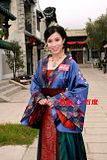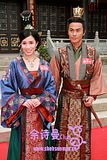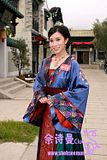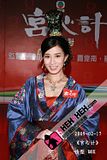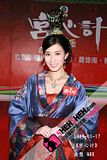 Credit according to watermark logo on images

Pictures from various news sources:

Charmaine & Kevin: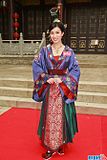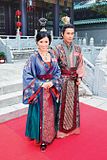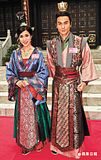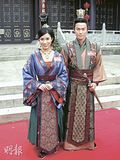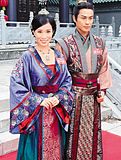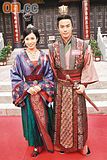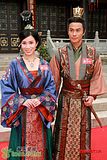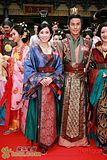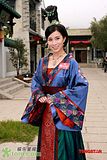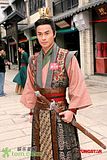 Hmm... Kevin is holding a sword here... starting as Chess Master, later promoted to Imperial Guard?

Tavia and Moses: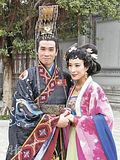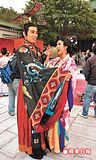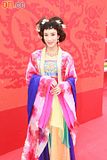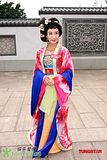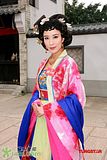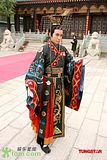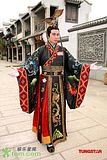 Moses look very regal in his costume, remind me of Cao Pi in [WTLB]. They purposely draw the flower tattoo on Tavia left eye, making her look more 'bewitching'. However I feel that the flower hairpins arrangement are not attractive.

Imperial concubines: Selena, Tracy, Mandy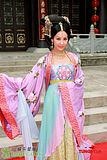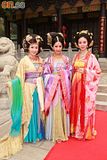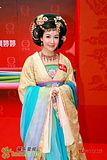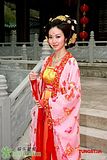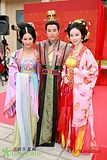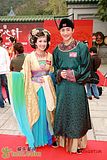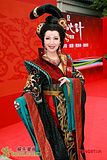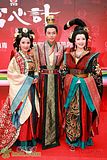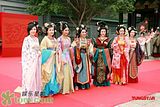 Selena have the best costume, while I prefer Mandy's hairstyle. Too bad there's no clear picture of Crystal Tin, from her costume and wig, I believe her role is also an imperial concubine. Tse Tsuet Sum and Mary Hon is also in the imperial concubine group, from their impressive costumes and hairstyles they are most likely the empress dowagers (Empress Dowager Guo & Empress Dowager Zheng). Lam Yi Kei could be Empress Dowager Xiao (there were 3 empress dowagers during Moses' reign - however there are news that she is Selena's mother). Edwin Siu is Emperor Wuzong. Vin Choi is wearing eunuch costume.

Susanna Kwan & Michelle Yim: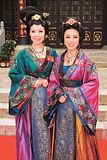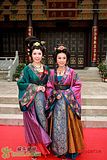 2 of the Four Controllers. The other two is Kara Hui and ??? I think Susanna's role is Charmaine & Tavia's mentor in the series. The controllers and Charmaine costumes are darker colored and official looking compared to the concubines' colorful costumes.

Other supporting casts: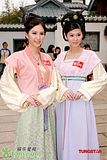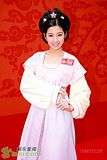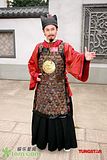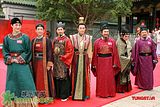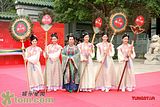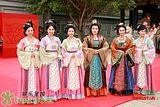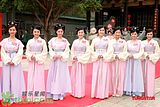 There are 3 ranks of maids here before being promoted to Controller... it'll be fun to see Charmaine in those costumes and hairstyles...

Misc group pics: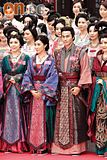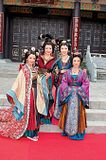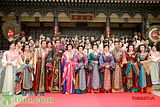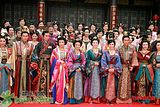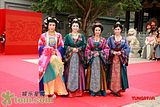 Please keep voting for Charmaine at Astro Wah Lai Toi Drama Awards! The voting is going to end today, so hurry! Also, check out the Next TV Awards below! Vote vote vote!