Clip credit to www.ah-sheh.com
Added Oct 15, 2008.
Charmaine Sheh (佘詩曼) and Bernice Liu (廖碧兒) appeared in some sexy low-cut dresses for the Leica Night promotion for the camera brand yesterday.

Charmaine revealed that she has been learning how to take better photographs recently and asked if she photographs other people, she said that she will take photographs of her colleagues and crew, but she does not like to photograph other artistes. Asked if she has photos of rumoured boyfriend Kevin Cheng (鄭嘉穎), Charmaine replied that she does not.

With the most recent rumours about Kevin linking him romantically to six women over a five year period, including Myolie Wu (胡杏兒), Sharon Chan (陳敏之) and Sheren Tang (鄧萃雯), Charmaine laughed that he must be super-attractive to win the affections of so many pretty girls. She smiled that Kevin is quite popular at the moment, so she is quite envious of him.

Asked if she felt that Kevin is a very unfaithful person, Charmaine said frankly that from what she knew of him, he is not a player and his last relationship lasted a good seven or eight years.

Bernice has just returned from Greenland from filming a TVB travelogue <冰天動地>. She said that she loves taking pictures and when she was in Greenland, she captured a lot of scenery and memories on her camera. Asked about rumours that she is out of favour with TVB at the moment because she was sent on this trip that meant that she was absent from the start of the anniversary celebrations, Bernice said that these opportunities do not come around very often, so she would rather take advantage of the trip. She added that the company will arrange for her to take part in other bigger anniversary events.

News translation above credit to Batgwa.com.

Additional translation from Takungpao:

Charmaine usually take photographs of her pet cat to record their growing stages. She also take pictures of her colleagues and filming crew. However she rarely take pictures of fellow artistes. When asked if she photographed Kevin before, Charmaine's reaction is quite huge as said: "No! Don't scare me!" She indicate that she rarely take her camera along when she goes out. Earlier she saw Raymond Cho's baby and took pictures using her handphone.

Recently there was a report saying date Kevin has secretly dated 6 actress in 5 years. Charmaine immediately joked: "All of them are beautiful women! Is he that great? I really envy him, he is on the cover of so many magazines, it's rare that a guy can be featured for so many weeks. He reaped all the benefits!" The reporters teased that she was also featured because she will be mentioned in Kevin's reports. Charmaine laughed and said that she should buy a copy to have a look. In regarding to Kevin saying that he lacked one more person to become Wai Siu Bo (lead character from Duke of Mountain Deer), does Charmaine feels that he is a player? She said: "The Kevin Cheng I know is not this kind of person, I know that his previous relationship last 7-8 years. He is not this kind of person. (But he said he want to be Wai Siu Bo?) He wish!"

Please do not repost. Thank you for your co-operation.


In the news clip, Charmaine said she lost the memory stick of her photographs - the one taken during [Easterly] filming. Poor thing...

By the way, Charmaine has just shoot pictures for TVB 2009 Calendar and she will be featured in the month of March along with Sonija Kwok and Michael Miu.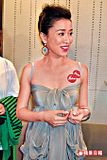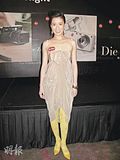 Scroll to the post below for more pictures from the event.