Download clip
here
.
Credit to Bebe from www.shehsheh.com.
[Ta Kung Pao 16/11/06]

This year's TVB Best Actress Charmaine Sheh was not very well yesterday, but she still filmed for chat show "Be My Guest" and she smiled that she was a little worried about her brain being a little slow through her illness and this would affect her performance, but she will do her best to answer the questions. In the show, host Stephen Chan presented her with a Monkey King toy and four pairs of sunglasses, laughing that he can 'split up' the hands on the monkey and put him down, hinting perhaps at Charmaine's rumoured boyfriend Benny Chan, who once played the Monkey King. Stephen later explained that the Monkey is soft so he can take anything that is thrown at him and he did not mean anything else. As for suggestions that the Monkey King was representing Benny, Charmaine immediately pointed out that Dicky Cheung had played the role before too and she was only there to receive the gift. She insists that she and Benny have never been a couple, so there is no 'splitting up' to talk of.




Although the awards are over now, the gossip continues and there have been rumours that Myolie has been suffering from stress after not winning an award and acting strangely. Charmaine supports Myolie in this and says that after the awards ceremony, the party went on until half past 2, then the next day, Myolie had to fly to Beijing, so sleeping on the plane was only normal. There are a lot of people on the plane, so covering your head is nothing unusual. With the Anniversary show taking place on Sunday, but Myolie making it clear she cannot attend because of work, Charmaine feels that if you cannot attend the event because of work, then people will not hold this against you.

There have been many internet critics who have been unhappy at Charmaine winning the Best Actress award, but Charmaine says that every competition result has people who like it and people who don't. This is beyond her control and she is grateful for Louis Koo's earlier vote of support for her and Kevin.

Translation credits to Em.

Pictures:



Sehseh: Take care Charmaine, don't get sick. Heard that Beijing and Ningbo are freezing cold, so do bring more warm clothings!

Here are some belated TVB magazine scans, featuring our Best Actor and Best Actress: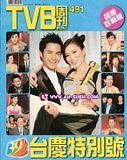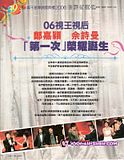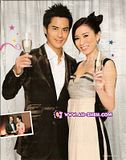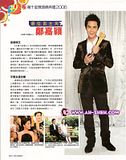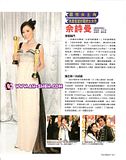 Scans credit to www.ah-sheh.com.

Hmm... Kevin and Charmaine look so nice together, don't they? I admit Kevin is one of the most good looking siusang in TVB, it would have been perfect if he is slightly taller. Kevin fans, before you pull out your daggers, hear me say that he still look great!

p.s. Since there's no Glittering Days tonight for me, I'll my best to translate as many article as I can. Wish me luck!