Charmaine Sheh has just shifted her focus to Mainland China last year. In a little over a year, her earnings have tripled and her popularity also increased. She has just been invited as honored jury for Magnolia Awards. Mentioning about the hit series [Bu Bu Jing Xin], though her ex-rumored boyfriend Kevin Cheng was not nominated in Best Actor award, Charmaine still praises him: "Considered very successful. There were so many princes in the series and he managed to stand out… if there is such opportunity, I would like to collaborate with him again."
As an actor, to be invited as jury for Magnolia Awards instead of Best Actress nomination is clearly an indication of elevated status. She has to watch many series in order to evaluate them, including Kevin's [BBJX].


"I felt honored and also very substantial with my time. I was given less than a month to finish 15 television series. [Legend of Concubine Zhen Huan] alone has more than 70 episodes. Watching over a few hundred episodes of series in 20 days, I've never tried this before my whole life. I watched [BBJX], Kevin rarely films costume series and he really have vast improvement compared to the past. A good script really can transform an actor. He is very successful, because he managed to stand out despite so many princes in the series. Likewise, he is also an actor from Hong Kong; therefore I also hope he will achieve better results in Mainland China."
Have you considered collaborating with him again? "If there is an opportunity I hope we can duel off in acting. Our last collaboration was [Beyond the Realm of Conscience]; after so many years there should be some difference. However, it would be better if it is non-TVB project, so we can experience with different production team." Their relationship in reel and real life was often the center of attention and there were numerous times where they rumored to have 'reconciled'. In her recent appearance at Shanghai TV Festival, Charmaine said: "No such thing! Right now we have not seen each other, you are too over concerned."


Charmaine nonchalantly said: "Ai, right now my romance life is still empty, I'm still waiting for Cupid's bow. Will follow fate, can't force these things." Her group of sisters Janet Chow, Annie Man, Toby Leung has all gotten married. Charmaine: "I saw a lot of married friends who are happy, and also some that are unhappy. There's many stages in life; period of studying, being wife and mother etc. It's just that my focus on career stage is a little longer than other people! Sometimes I feel totally exhausted, but I'm letting it happen naturally."


Difficult for younger man, older women relationship

Plenty of Hong Kong artistes manage to found their other half in Mainland China. At this, Charmaine said: "I filmed [Legend of Yuan Empire Founder] in Mainland China for 6 months, all the actors I collaborated with are already married. Right now I'm filming [Marry into the Purple], the male lead is a newcomer actor. Though I don't set boundary by age, but I have yet to meet someone who is younger but more matured than I am. It's pretty difficult for me to have relationship with younger men. Actually I didn't set any special requirements; as long as he is motivated; have a stable career; and kind hearted is OK already. If I found someone like this I am willing to let go of my career to become a good wife and mother."

Due to her empty romance life, naturally people will talk about her previous relationships. It was rumoured that Benny Chan (who has just became a father), purposely moved into the same hotel in Hengdian just to get closer to Charmaine. "Same hotel? I have not seen him. The hotel I'm staying in was not bad; I stayed there for both of my series. He is already married and has a family of his own. Please be fair to him, don't create fake stories like this. It's not good to affect someone like this."


While she leaves romance to fate, she paves career path using her own effort. Last year, Charmaine ended her management contract with TVB. After parting with her status as TVB 'biological daughter', she spent ¾ of her time away from Hong Kong. This year, she finally found time to return to Hong Kong, and surprisingly she has not lost any opportunities in Hong Kong, her endorsement offers are endless. Currently filming [Purple] in Mainland China, Charmaine hurriedly return to Hong Kong last Friday to shoot advertisement for A-Fontane. According to sources, she earned 7 figure sum in just a few hours of shooting. In addition, with filming fees in Mainland China ranging from HKD200k to 250k, her salary is still a lot higher than TVB leading actresses.


Charmaine expressed: "There is an increase in filming fees, but not considered a huge increase. They're friends which have collaborated for many years, not everything is measured with money. As for filming fees, definitely will not compare with other people. The decision to accept or reject a series ultimately lies with the production quality." There are allegations that since Charmaine switched to per contract series; TVB has not found another successor in ratings guarantee. In addition, due to facing the intense competition from other stations, TVB has beckoned their deputy-chief director of drama department; Tommy Leung to appeal Charmaine to film a series for them. Unfortunately, Charmaine's schedule was packed and it would be difficult for her to return to TVB this year.

Regarding TVB crisis of depleting leading actress and lack of manpower, leading to them appealing for Charmaine's help, she said: "Please don't say that. If I'm going back, that's just mean (TVB) has me as an addition. TVB still have a lot of people, I see that Linda Chung etc has been filming non-stop. (Currently the lack of manpower has led to Natalie Tong pairing up with Wayne Lai in a series). The company must have their own reason if they are OK with this. The audience would love fresh pairing too. Actually I really like to return and film a series, as TVB has a much different atmosphere, like returning home. I've known the cast and crew for many years; we are very familiar with each other. But it really has to depend on timing, as many Mainland China series are usually negotiated and schedule reserved ahead of time. It's very difficult to suddenly return and film series, maybe early next year!"



Have no intention to sign with Ricky Wong
There were allegations that [War & Beauty 2] cast is not as strong as the original, and TVB hoped that Charmaine join the series. Producer Jonathan Chik even personally meets her to invite Charmaine to guest star in the series. Charmaine expressed: "This is just rumours. Earlier I met Jonathan in Mainland China; he didn't mention this to me at all. Earlier on, the reason I have to decline the series is because of schedule clash. I'm currently filming [Purple], therefore it's not possible for me to film [WAB2]. I feel that the series certainly will be attractive, I believe in the power of Jonathan Chik and Chow Yuk Ming combo."
With regards to Ricky Wong aggressively poaching talent from TVB, Charmaine who has only 1 remaining series contract with TVB frankly admitted that she has no interest in jumping ship. "Having competition is a good thing, as long as it's not malicious in nature. (Have Ricky Wong contacted you?) He never contacted me. In addition, I do not have such plan at all. The biggest reason I left TVB is because I want to explore the market outside. If I'm staying in Hong Kong to film for another TV station, why should I leave TVB? Doesn't make sense."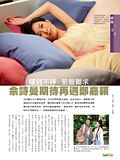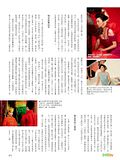 Scans credit to TVBChannel