We've reached the annual return of one of the most significant award for Hong Kong TV industry - Next TV Award.
From 2002 to 2010, Charmaine has been ranked in Top 10 Artistes for 9 years in a row. With her recent arm injury and contract renewal issues with TVB, 2011 may prove to be a challenging and bittersweet year for her.
Let us fans gather our support for Charmaine by voting through Next TV Awards - the forever Queen of our hearts!
As usual, I will provide the voting guideline for those who doesn't understand Chinese.
Please do go through the entire guide below carefully before voting
.
----------------------------
1: Go to Next TV Awards voting page at
http://nexttvawards.next.hk/voting.html
2. The 1st voting category is Top 10 TV Artistes

Please tick the box underneath Charmaine's picture.

No. 23 佘詩曼
Proceed to next page, scroll to bottom and click on this button:

3. Next is the 2nd category Top 10 TV Shows
Please tick No.8 公主嫁到 [Can't Buy Me Love]
Proceed to next page, scroll to bottom and click on this button:

4. The next two categories are for Most Potential Male and Female Artistes, please choose one for each category and proceed to next page by clicking on next button (same as shown above).
5. The final award category is the Sponsors Awards.

Charmaine is nominated for Philips Brilliant Charisma Award, please tick underneath her picture 03 佘詩曼.
You must also vote for one artiste from other sponsors award.
Finalize your vote by clicking on the confirm button at the bottom:

6. Finally, you will be asked to enter your personal details.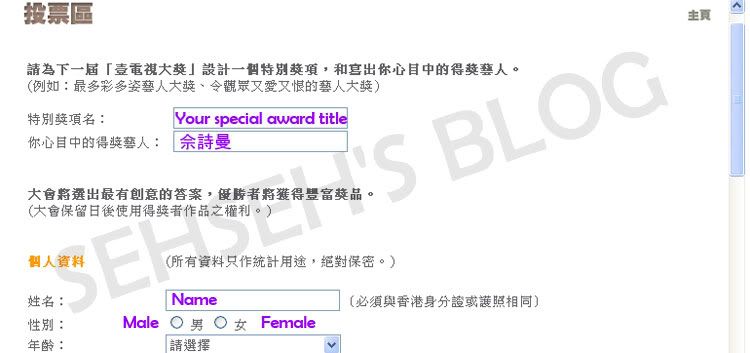 Next TV Award have added a new feature this year, fans can create a special award for their idol. If you wish to create a special award for Charmaine, remember to key in her name 佘詩曼 in the 2nd box.
Note: Do not copy the text in suggestion text above, because one of it is Actor/Actress I Both Love and Hate. Lol, you do not want to give Charmaine such awkward title.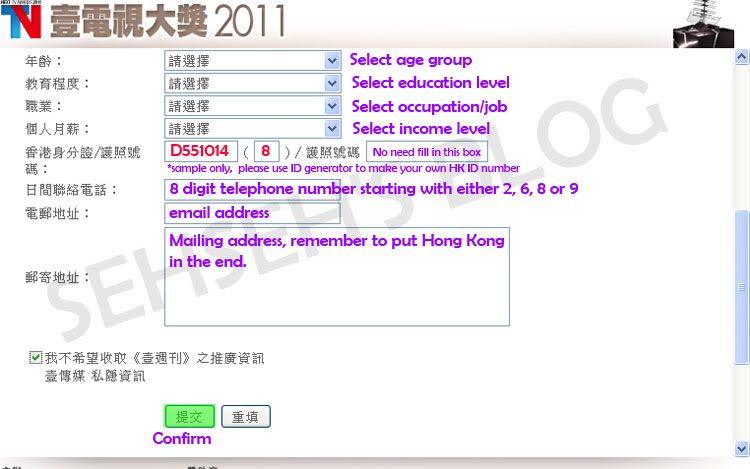 Enter your details as follow. Apart from the HK ID number, you can 'fictionalize' the rest of the information. The HK ID sample is shown in red, please do not use the same number.
If you are not a HK citizen, this is where the
ID generator
(click to download)
come in handy.
Download and run the file (if your pc doesn't support Chinese character, the words on the software might be jumbled up, but don't worry - follow my instructions and it will still work).
Select Hong Kong from the scroll bar.
Click 产生 button to generate ID number
Click (2) until a HK ID with 8 digit including alphabet appears. Sometimes it will generate 9 digit, you can use that as well
Copy and paste the first 7 digit (alphabet + number) into the first box (Sample in the pic 'D551014')
Paste the remaining one digit in the last box. (Sample in the pic '8')
Passport number is optional, so let's just save time and skip it.
Enter phone number, email and mailing address as per instructed in the sample above. To finish voting, click on the confirm button on the lower left.

7. You will be brought to a 'Thank You' page. There, you are done voting for Charmaine!
Voting officially ends on March 6, 2011 (6:00pm).
Please hurry and cast your important vote(s) for Charmaine!
p.s. Don't forget to vote for Charmaine at
Singapore Entertainment Awards
as well!