The annual Next TV Awards returns.
Considered one of the most significant award event for Hong Kong television industry, this is the showcase of popularity among TV artistes and their series. Of course, fans will be duly rewarded with gorgeous magazine spread of their winning idol.
Not to mention, Charmaine is in Next TV Award Hall of Fame as the 3rd highest win in Top 10 Artistes. She has been ranked in the Top 10 list for 8 years in a row since 2002. Of course we would like her to continue being ranked, don't we?
Without further ado, let's get down to business.
1. Go to Next TV Award voting website:
http://nexttvawards.next.hk/voting.html
2. First category is the Top 10 Artistes Award. You are allowed to select 3 person.
Charmaine is No. 8 佘詩曼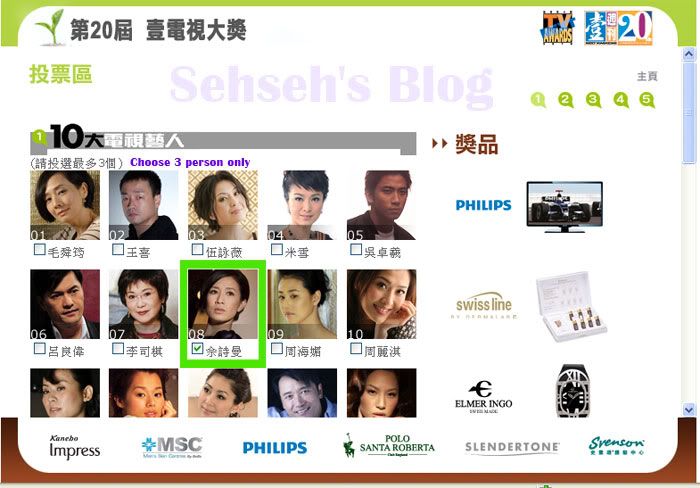 After making your selection, scroll down and click on the 'Next' button.
3. Next is Top 10 TV Series. You can select up to 3 series.
Charmaine has two series nominated:
No. 23 Beyond the Realm of Conscience 宮心計
No. 32 You're Hired 絕代商驕
4. Click 'Next' to proceed.

5. Next are several categories that doesn't involve Charmaine, please vote for your preferred artistes in respective categories. Follow the above button to proceed to the following categories.
6. The final award category is the Sponsors Awards.
7. Charmaine is nominated in two sponsors award.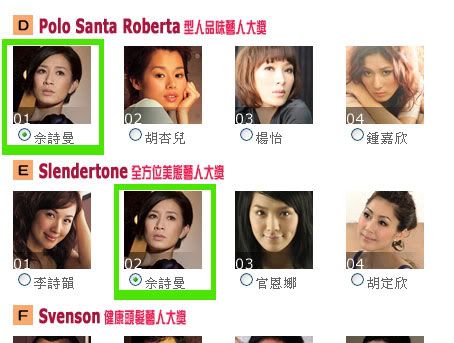 D. Polo Santa Roberta 'Fashionista Award' 01 佘詩曼
E. Slendertone 'All Round Beauty Award' 02 佘詩曼
8. Proceed by clicking on the 'confirm' button.

9. Enter your details as follow. Apart from the HK ID number, you can 'fictionalize' the rest of the information.
If you are not a HK citizen, this is where the
ID generator
come in handy.
http://www.mediafire.com/?j4ghlerny4i
(Password:
charmainesheh
)
10. Download and run the file (if your pc doesn't support Chinese character, the words on the software might be jumbled up, but don't worry - follow my instructions and it will still work).
1. Select Hong Kong from the scroll bar.
2. Click 产生 button to generate ID number
3. Click (2) until a HK ID with 8 digit including alphabet appears. Sometimes it will generate 9 digit, you can use that as well
4. Copy and paste the first 7 digit (alphabet + number) into the first box in step 10. (Sample in the pic 'D551014')
5. Paste the remaining one digit in the last box. (Sample in the pic '8')
6. Passport number is optional, so let's just save time and skip it.
7. For phone number, enter any 8 digit starting with either 2, 6, 8 or 9.
8. Put in any HK address (just Hong Kong is good enough)
9. Click on the confirm button on the lower left.
11. You will be brought to a 'Thank You' page. There, you are done voting for Charmaine!
Voting officially ends on February 28, 2010 (6:00pm).
There's not much time left so please hurry and cast your important vote(s) for Charmaine!
Again, I thank you all in advance for supporting Charmaine! Hope to see her winning more awards in Next TV and also the upcoming
Omy.sg Entertainment Award
.