Warning:

Please skip this post if you do not want to be spoiled of Dayo and Charmaine's ending in [You're Hired].
Song and Miu Miu is so cute together in [You're Hired]! Honestly, at first I was a bit worried how Dayo-Charmaine collaboration will turn out, but it turns out that they really have wonderful chemistry in the series. It's very enjoyable seeing Song and Miu Miu teasing and bickering in the series. Their romance is kept to minimum and only started from episode 17 onward.
In episode 20, Song finally admit that he likes Miu Miu and he suggested that they 'trial' dating. On their first date, Miu Miu brought Song to shopping and expect him to pay for her (expensive) purchase. Lol... Miu Miu sulked when Song claimed that he didn't bring money. Song quickly agrees to pay:
"It's such a coincidence that I have money on me today. Normally I don't bring money. We certainly have fate together."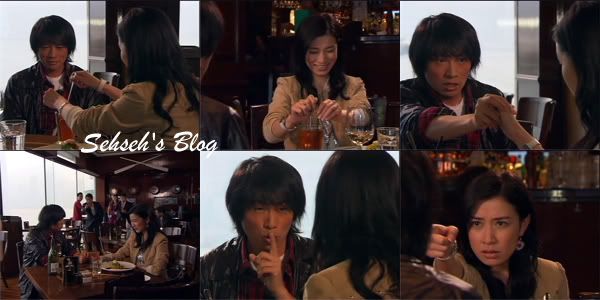 During lunch, Song took the opportunity to 'hold' Miu Miu's hand. It's cute seeing Song so tense before grabbing her hand. However, the intimacy is cut short when their ex-colleagues from the rice company run into them. Song was flustered and deny dating Miu Miu. Song explained to Miu Miu that he feel troublesome having to explain to others if their relationship didn't work out. Of course, his choice of words pissed Miu Miu further. "Gu" is a term where you sell out the chips in stock exchange, which means 'dump' in their dating terminology.
Miu Miu: What?! That means you plan to 'gu' (dump) me from the start!
Song: No, no... it's not necessary me who 'gu' you. It's possible that you will 'gu' me too.
Miu Miu: That's right! I 'gu' you right now! 'Gu' you! 'Gu' you! 'Gu' you!
Miu Miu couldn't catch a cab because other couples keep stealing her spot. However, the smart Song booked a cab via phone for Miu Miu. Song said that he is not just a stock with increasing value, he's actually a blue chip so Miu Miu should 'hold on tight' and not 'gu' him so easily.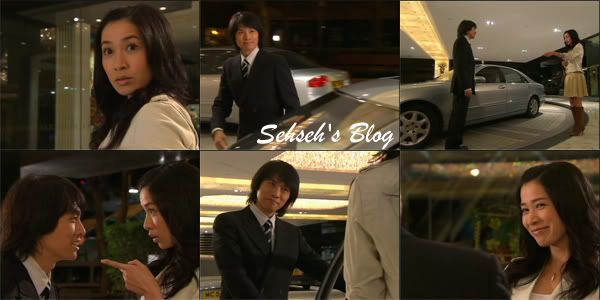 Miu Miu wanted to have dinner at a high class restaurant, and was surprised that Song quickly agrees (in previous episodes he refused to wear business suits, no matter how official the occasion is). He end up wearing the suit provided by the restaurant (imagine Song, ala Gut Siew style). Apart from complaining his lack of romantic gestures, Miu Miu commented about his dressing and lifestyle - he should wear business suit, cut his hair, get a car and own a house.
So, right after dinner Song surprised Miu Miu by driving a Mercedes Benz and wearing an expensive looking suit.
"Sorry, didn't have enough time to cut my hair. Just make do for now, ok?"
Aww... Song is so charming in that scene, he melts a lot of netizen hearts as well.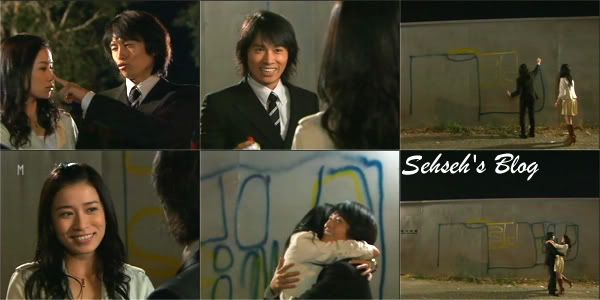 Song brought Miu Miu to a wall where he spray painted their dream house. Song is so sweet!
Miu Miu sensed that Song is troubled but he refused to tell her what's on his mind.
"A real man shouldn't complain to woman, I want my woman to live happily without worry."
Song proposed to 'Miao Miao' using a ring made from rubber band and promised to give her a real ring later. Miu Miu is obviously touched, but Song told her that it's just a 'trial' wedding proposal, not the real thing.
Pissed with Song obsession with all those 'trial' in their relationship, Miu Miu scolds:
"People will eventually die. So why don't you go ahead and 'trial' dying?!"
Wanting to appease Miu Miu, Song arranged for Miu Miu brother and sister-in-law to apologize to their father in a small family dinner. He also paid off their HKD5 million debt (seriously I do think her brother should repay Song to show that they truly repented). Song attempts to 'trial' wedding proposal again, and this time Miu Miu agrees to play along because he have a wedding ring box in his hand.
Alas, because it was a 'trial' proposal the box doesn't have any ring in it. Instead, it's a signed 'wedding ring voucher' where Miu Miu can redeem for a real one from Song in the future. Miu Miu is not too pleased with the meaning that she have to ask him to marry her, but accepted the voucher anyway.
Miu Miu even puckered up for a kiss when he asked 'that last thing' to complete their trial dating.
He give her a script and requested to rehearse for their future break up. Since they have trial dating and wedding proposal, they must also have trial break up, just in case. This really hurts Miu Miu's feeling and she suggest that they break up - for real. She could not stand Song's insecurities and lack of commitment in relationship.
Song may be a business genius but he's definitely clueless when it comes to romance. He was dejected and could not understand why Miu Miu insist to break up with him, when he's trying his best to please her. Gut Siew (Benz), being the modern day Casanova, try to give him pointers in relationship.
Gut Siew: What does women like best?
Song: Throwing tantrum. Shopping.

Lol... how true. It's one of my favorite quote in the series! Anyway, Gut Siew true answer is 'communication' by discussing their feelings.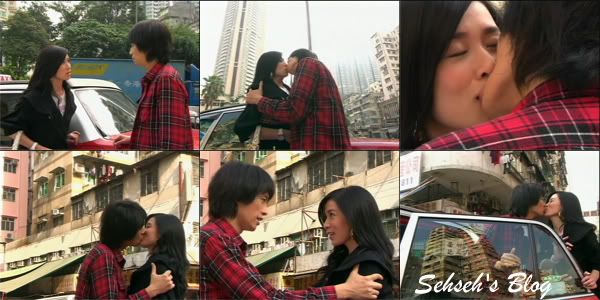 Therefore Song try to communicate his feelings and thoughts with Miu Miu. However, what he shared with Miu Miu was his thoughts on breakfast, lunch and dinner. Frustrated that Song always put their relationship aside, Miu Miu confronted Song that all she need is a guy who cares for her, and shares his thoughts with her. She doesn't care if he is a business genius, she doesn't need a hero.

Of course, Song gave his answer with a big kiss.
"From now on, no more trials. We are dating for real. I will tell you anything, just ask."
And all Miu Miu asked is what he wants to have for dinner.
In the last episode, Song was hit on the head by Martin and lost a lot of blood. Luckily Miu Miu discovered him in time -
it can only happen in TVB world where the guy/girl you date happen to share the same rare blood type
. Song then asked Miu Miu if she still have the ring voucher because he wants to exchange it for a real ring when he got discharged from hospital. Miu Miu is so excited that she asked the nurse to discharge Song immediately.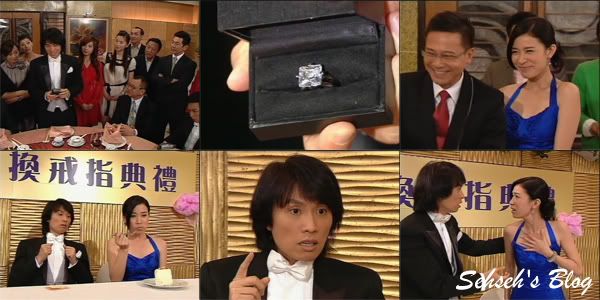 Song planned to propose to Miu Miu during the 'ring redemption' ceremony with the huge 7 carat diamond ring sponsored by Mou Si Holdings. He wants to give Miu Miu the perfect surprise - by hiding the ring in the cake.
Sigh... don't people ever learn? Never, ever hide the proposal ring in food!
Of course, Miu Miu swallowed the ring - because her father said that he baked the cake and she did not want to embarrass him by spitting out the 'nuts'. On the other hand, Dayo and guests freaked out because they thought the ring went missing.

After taking loads of laxative and bananas, Miu Miu finally 'deposit' the ring in the toilet. She asked Song to pick up the ring because it was his idea to hide the ring.
Song: I can't! I'm a clean freak! Every time I go to the toilet, I'll get depressed for days! And surely you do not want to me to be reminded of you every time I see the toilet and vice versa right?
Miu Miu will have none of his excuses and flashed the 'ring exchange voucher'. All she have to ask is:
"Do you love me?"
So Dayo bravely proceed to the toilet (aka Doors of Hell). Lol... I think this is a message to guys.
Getting married = zhao si (digging your own grave).
Right before he steps in, Miu Miu held his arm and said:
"Let's go in together."
Marriage is not troublesome, because your other half will always accompany you through good and bad times.
- The End -
Song & Miu Miu fanmade MV
Credit to iamsunfish