[Nanfang Daily 11/08/2009]

Note: Minor spoilers

Criticized as nonsense and tasteless by 'superior' audiences, [A Bride for A Ride] finally ended its run last week. This week it will be replaced by Dayo Wong and Charmaine Sheh's business themed comedy series [You're Hired]. The series revolves around entrepreneur genius Mak Tai Song (Dayo), who used to rumble in US Wall Street. He willingly became a 'business doctor' upon returning to Hong Kong, helping small and big enterprise to overcome their problems. The concept of the series is very unique and the out-of-norm pairing of its leading actor and actress is refreshing. The concept and the characters of the series were devised by Dayo himself. Dubbed as the rare "intellectual comedy king" of Hong Kong TV screen, what kind of surprise will he bring to us? What kind of sparks will result from Charmaine Sheh who rarely film comedy series, along with popular 'Laughing Gor' Michael Tse?

Business world – He is my most impressive 'intelligent/business' character to date
(Note: The word 商 can be used to describe both intelligence and business)

Dayo who is a veteran in stand-up comedy, has the ability to generate laughter while maintaining his composure. In [You're Hired], he created for himself a character that transformed from 'black knight' to a 'white knight'. A 'black knight' is someone who acquires and dismantles companies for higher profit (hostile takeover), while 'white knight' aid companies in restructuring its business. Dayo researched about business philosophy while studying in Canada. When it comes to Dayo, he can make business terms and theories comprehensible to audiences ranging from 7 to 70 years old.

Looking back at Dayo previous roles, be it Yu Lok Tin in [War of the Genders] or Detective Mok in [To Catch the Uncatchable], he did not change his trademark style of being sharp-tongued and cunning. Dayo continues to transfer his 'stand-up comedy' elements into series, using jokes and aggravation to explain business tips such as "Equivalent Exchange", "The Long Tail" etc.

Dayo split explanation

"The difference about this character compared to the past is that he is far more educated. He studied in US, graduated from university, enjoy drinking red wine. He is my most impressive TVB character to date. Therefore the style of the jokes is not so typical; it's another kind of humor! Actually the real me is a lot different from this character, I molded it from my 'Dayo Wong style'."

Romance – Possibly another classic onscreen couple with Charmaine Sheh

Watching Dayo's comedy series, fans have high requirement toward his female co-star. His previous co-stars came from notable resumes: Dodo Cheng's "Miss Mo" is the 'queen of never-say-die'; while Ada Choi's Vivi Lee is a little bit blur but opinionated and clever little lady. This time, he is partnered with Charmaine who portrays a materialistic Hong Kong girl with shopping addiction which lead to credit card debt. She ends up working as a debt collector. Her character often fights with Dayo, harassing and mocking each other, a pair of quarrelsome lover. A bit unexpected and anti- 'perfect match'.

The unpredictable Dayo together with OL (Office Lady) style Charmaine, what will this lead to? The producer laughed: "They have good chemistry reaction. Charmaine indeed rarely film comedy series, this series could be considered a revolutionary work of hers. Dayo is charming as usual; his partnership with Charmaine created sparks and will bring pleasant surprise to audiences!"

Dayo's opinion of Charmaine "I'm the link for her display"

"We have good chemistry which surpassed our expectation! I feel that Charmaine have really explosive energy, at a certain degree I feel that my character provided her a link to display her explosive energy. I'm the one who ignited the fuse. In a more forthright explanation, I have to irritate her to the max in the series, therefore causing her to burst out. She hates me so much that she hit me with toothpick holder. When we are not filming and waiting for camera to roll, she was standing next to me and suddenly a loud 'bang' flew over (sound of the toothpick holder landing on his head). I feel that even if Dodo and Ada is standing right here, Charmaine will not lose out in comparison. Will we become another classic onscreen couple? It's not impossible. In the middle of the series, we attempted to date but I end up making her really mad, it's very amusing. This process didn't happen in the past two series."

Charmaine's opinion of Dayo "Makes me so mad, I'm seething with rage"

"I don't understand why the producer asked us to collaborate. We have never worked together before but the filming process were happy and entertaining. Even though my comedic experience is not as good as his, but I am still up to challenge. The most unforgettable scene is where we got trapped in the elevator, I was really upset that he did not admit about us dating and demanded for explanation. I look seriously angry, but he diverted the topic by talking about his breakfast, making me seething with rage. Our dialogues are absolutely nonsense; I can't suppress my laughter and NGed more than 10 times in a row. It broke my NG record in recent years."

Three successful cases

1. Rescuing the wanton noodle restaurant: Banning favoritism in employees, replicating master chef technique, attracting food critics to visit, increasing business profit.

2. Revamp of old folks home: Two neighboring kindergarten and old folks home is not properly managed, Tai Song helped to merge them together.

3. Rubbish collector becoming recycling mogul: Teaching the shabby, rubbish collecting youth to start up a recycling company, expanding into Hong Kong's most huge scale recycling enterprise.

No repost allowed.



'You're Hired' episode 1-2 has already been aired, but the DVD is only available on Friday. Oh gosh, what a long wait! But I guess the good part is that I can marathon 5 episodes in one go! Muahaha!

Last evening, Charmaine attended 'Laughing Gor' the movie premiere. Seems like black is the dress code (not really, just a coincidence).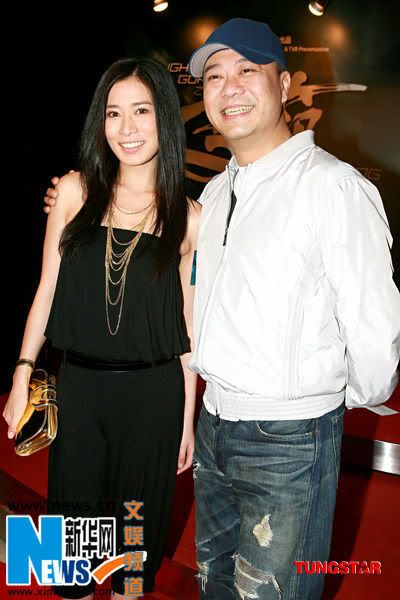 Charmaine also updated her TVB with clip, please drop by and leave her a supporting message!