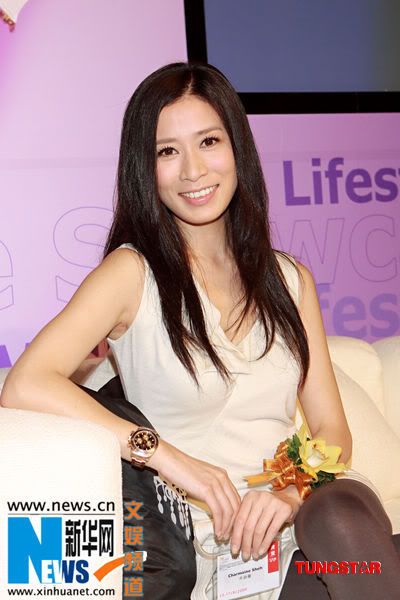 [Takungpao 15/08/2009]

Charmaine Sheh and Skye Chan were invited as ribbon-cutting guests for the launch of 'Hong Kong Lifestyle Showcase' yesterday.

Charmaine expressed that she have never visited similarly large exhibition after entering entertainment business because no matter how she disguised herself, people will recognize her. Reporters asked if she has also lost her dating freedom after entering entertainment business and she frankly admitted that dating and spending time with family were among those lost. However she understands that there's no such thing as perfect, the most important thing is having balance. Charmaine said that if she found Mr Right, she does not eliminate the possibility of 'lightning wedding' (married quickly). She won't retire from filming, but will reduce her work load.

Suki Tsui was rumored to be holding a shotgun wedding in November and Charmaine says that if this is true, then she wholeheartedly congratulates Suki. Mentioning the rumors of discord between Kevin Cheng and Wong Hei, Charmaine indicate that she did not watch [Burning Flame 3], but she once worked with Wong Hei in a telemovie. Regarding the rumors of Wong Hei changing the dialogues, Charmaine stated that the telemovie is just about an hour and the script was short therefore he never altered her dialogue. Earlier, Kevin expressed that this the first time he's been accused not getting along with anyone since entering entertainment business for 16 years. Charmaine said that there will always be the first time and smiled: "Well he's considered late for that. He has to experience it himself. I was also rumored not getting along with Sonija Kwok and Shirley Yeung before, I regard it as publicity."

No repost allowed.



Hehehe... the reporters also asked whom she think look more like a firefighter - Kevin or Wong Hei, Charmaine picked... Bosco! Because he is tall and looked better in the uniform!