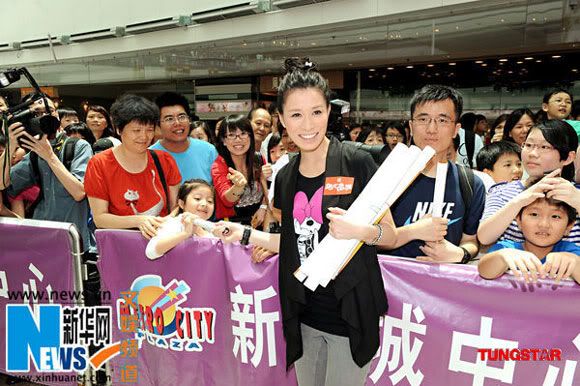 [Oriental Daily 16/08/2009]

Yesterday Charmaine Sheh, Mandy Cho, JJ Jia and Oscar Leung attended the promotional event for TVB series [You're Hired]. It was also the birthday of Charmaine's rumored boyfriend Kevin Cheng. Will she be celebrating with Kevin later in the evening? She instantly said: "Really, it's his birthday? I wish him a happy birthday then, I will send sms to him. (Will you be having dinner together tonight?) I don't think so, depends if I have the time. But I'm going to Hawaii soon. (Are you going to give him birthday present?) He didn't give me presents for my birthday, therefore I will consider first unless he give me presents for my birthday next year."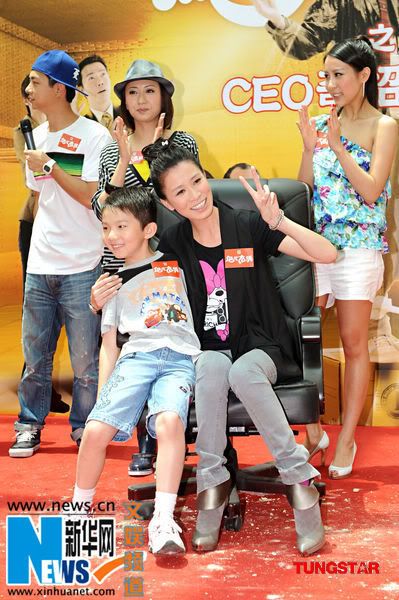 Charmaine Sheh says that Kevin Cheng is callous

[Takungpao 16/08/2009]

The cast for [You're Hired] Charmaine Sheh, Mandy Cho, JJ Jia, Power Chan and etc. attended the promotional event at a local shopping mall yesterday. The cast played games to test their capability to become the 'Entrepreneur CEO'. Apart from giving the child actor a piggyback during the game, Charmaine was totally engrossed in the tongue twister challenge while eating biscuit and musical chair game. Unfortunately, Dayo Wong was unable to attend the event as he was busy rehearsing for his upcoming stand-up comedy show.

Charmaine heard that the ratings for the series is doing well and hope there will be an opportunity to film a sequel. Since Dayo could not attend the event, did she feel burdened to promote the series on her own? She smiled and replied no. Will she ask Dayo to compensate by treating meals? She said that during filming, Dayo always treat them to meals. Earlier Dayo indicated that he will not be filming TV series anymore; does that dash her hopes for a sequel? "It doesn't matter, I will ask him to treat me to watch his stand-up comedy show." In the series, Charmaine constantly yell at people and behaves uncouthly. Did she ask opinions from rumored boyfriend Kevin Cheng? She simply replied: "You can go ahead and ask him, but my friends told me that they hearing me yell at people." Charmaine point out that filming with Dayo is very laid-back. Though Dayo will change the dialogues, he will not suddenly crack up while filming. Sometimes she will also mock Dayo.

Yesterday is also the birthday of Kevin. Will she be celebrating with him? Charmaine said that she won't, perhaps she will send him birthday wishes through sms. Will she be giving presents? She simply said that she will consider first, because Kevin never gave her birthday presents. If Kevin is willing to give her birthday presents next year, then she will give him presents in return. Charmaine also said that she will not be asking Kevin out for celebration dinner because she doesn't have the time. Asked if this year is her first time celebrating birthday with Kevin, she said: "I have never celebrated birthdays with him."

No repost allowed.



The rating for 1st week is around 31-32 points. Hope the series continue to do well in both ratings and review!