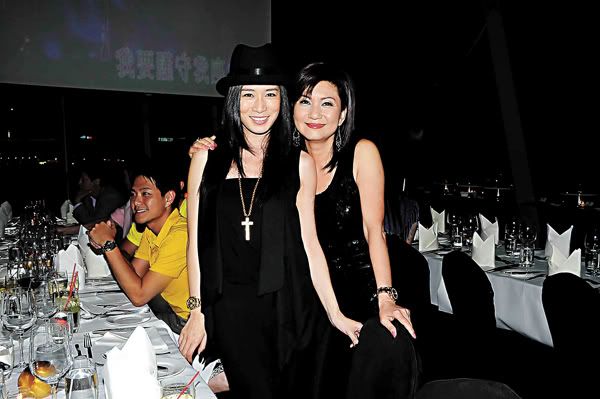 TVBE clip
[Singpao 01/07/2009]

To celebrate the birthday of TVB's Production Resource Department Director Virginia Lok Yee Ling, a crowd of TVB actors and actresses attended her birthday party at Central last night. They include Charmaine Sheh, Raymond Lam, Michael Tse, Bernice Liu, Moses Chan, Anthony Wong, Nat Chan, Michael Miu, Joe Ma, Fala Chen, director Herman Yau, TVB General Manager Stephen Chan, Matthew Ko, Derek Kwok etc.

There were over 40 bottles of whiskey at the party and birthday girl Virginia keep toasting drinks to guests. The artistes also went on stage to sing and wish Virginia a happy birthday. Virginia appeared to be very happy and when Anthony arrived, she went out to greet him with a hug.

Asked about her birthday wish, Virginia said: "I wish for all my sons and daughters (TVB managed artistes) to be happy, smooth sailing in work, more jobs mean more income. This year is indeed happy; Raymond opening concert, Michael Tse filming movie and there are many great plans to come. I can't reveal them now, because it'll be embarrassing if we couldn't achieve it."

Charmaine expressed that she really liked the present she bought for Virginia, but she refused to reveal what it is. "It can be worn and use, but I'm not sure if the size fits. I wish Ms Lok forever youth and happy always. I hope she doesn't need to work so hard, take more rest!" On the other hand, Derek was drunk and bumped into the glass door as he leaves. He gave a silly laugh and said: "I know martial arts, that's why I'm practicing my 'iron head' kungfu."

No repost allowed.


Hehehe, the press called it a 'mini TVB anniversary celebration', with so many artistes attending the party. Charmaine's outfit is from D-mop, and her style is a tribute to MJ.