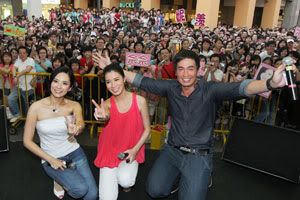 Meeting frantic fans, Moses Chan got his underwear stolen, Charmaine had her hair pulled.

[Zaobao.com 20/07/2009]

[Heart of Greed] popularity is astounding – Moses Chan has fans of all ages and attracted 3000 fans to Bugis Junction! He dedicated this song to local fans: "Endless Love"!

Four popular TVB artistes Moses Chan, Charmaine Sheh, Michael Tse and Sonija Kwok are invited by Scorpio East to Singapore this weekend for TVB series promotion.

Apart from Michael who will be arriving today, the other three TVB artistes appeared at Bugis Junction yesterday to meet fans. The event attracted 3000 fans, making the venue packed to the max. Though the event only starts at 6pm, some fans already queued up at noon to get a good spot. That's 6 hours early just to wait for their idols!

[TVB Star Tour 2009] autograph session started at 5pm. Escorted by 6 security guards, the 3 popular artistes arrived shortly after 6pm. Fans turned into a frenzy as soon as they caught glimpse of their idols after waiting for such a long time.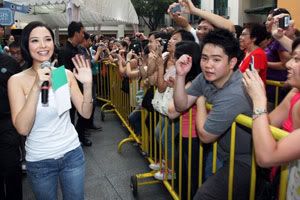 Looking at the fans, each of them have their own group of supporters. There are those who held up "Sheh Sheh" cardboard to support Charmaine, and there's also "Sin Nei" group (Sonija's fans). However, the most popular has to be Moses due to series [Heart of Greed]. Not only did he attract female fans, there's also male audiences calling him "Hou Zai, Hou Zai". Their calls sound like close 'friend'.

Moses gained some weight and he explained onstage that he put on weight for his emperor role in TVB anniversary series [Beyond the Realm of Conscience].

As soon as they arrived at Bugis Junction, they played color treasure hunt game with fans onstage. Sonija, who look more and more lively lately, sang English song "Close To You" for the first time. She feels touched seeing local fans holding the "Sin Nei" cardboard.

Fans booked 2 taxis to chase after Moses

Winning TVB Best Actor Award from his role in [HOG], Moses is the much awaited guest to perform. He sang a medley of songs for local fans, including [K歌之王], [对你爱不完], [天才与白痴]. His choice of songs range from the 1970's to year 2000.

As he sang, Moses instinctively went down stage and shake hands with fans, creating a climax at the event. It's like mini concert.

"Duk Duk Dei" butt is valuable, local fans loves his 'electrifying derrière'! Originally the media thought that local fans like Moses due to [HOG], but it was unexpectedly revealed at yesterday event that of them fell in love with him since his movie days! A fan said: "He (Moses) filmed a CAT3 movie in 1994 called [晚九朝五]. He daringly exposed his butt in the movie and at that time I'm already attracted to him!"

Being able to swoon fans with his pert derrière, no wonder HK media reported that once Moses had his underwear stolen while he was taking a shower. Moses must have an electrifying butt.

Apart from his derrière, Moses fans also love his dimples and broad shoulders. Though Moses seems to have 'plumped up' in his trip to Singapore, fans have not deserted him. "His butt silhouette looks fit in the movie, now they are voluptuous. I like them both!" Moses fans also praised and anticipate their idol's acting. He can portray a diverse range of roles such the gentleman scholar type and also silly type like "Duk Duk Dei" in [HOG].

There two taxis chasing after Moses last evening. Later at night, there were more than 20 fans waiting at the hotel and requested for individual photograph with their idol.

Charmaine praised Singaporean fans as well-mannered.

Mentioning about fans, Charmaine Sheh laughed: "I've met frantic fans before, turning hand shake into hair pulling!"

Apart from local fans in shehsheh.com, there are also Charmaine fans who purposely flew in from HK to support their idol. Local fans of Charmaine booked 3 taxis and followed their idol wherever she goes.

One of Charmaine's fans Rui told reporters: "Charmaine's official fanclub already have more than 10, 000 fans online, ranging from 10 to 80 years old. We like Charmaine, apart from her beauty we also admire her work attitude and her acting!"

Local fans were also asked about Charmaine's rumors with Kevin Cheng, and whether fans feel they are compatible. Rui says: "It's not for me to comment, whoever Charmaine likes, we will also support her."

More than 20 fans chased after Charmaine fervently and she very understanding towards them. She held an impromptu private fans gathering at the hotel, chatting and taking pictures. She also took care of Hong Kong fans, treating them nicely.

Speaking of fans, Charmaine smilingly told reporters during interview: "They are very obedient; Hong Kong and Singaporean fans are better behaved, while Malaysian fans are the most passionate. On time, a handshake session turned into hair pulling. However I know that they were not intentional, they just want to get closer to me."

Charmaine's TVB anniversary series [Beyond the Realm of Conscience] will be released in November. Touted as Hong Kong's version of [JITP], Charmaine labeled her character "Lau Sam Hou" as perfect. Does she hope that her role will be well received like Moses' "Duk Duk Dei"? Charmaine admitted that you can't predict the outcome but frankly said: "I'm more worried that the character will be compared to Da Jeung Geum (JITP lead female role)..."

No repost allowed.

Arriving at airport... pic credit to Chic from KuangaiTVB BBS: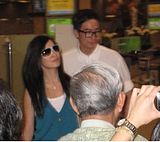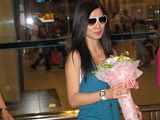 Moses, Sonija & Charmaine, credit to Chobits from KuangaiTVB BBS: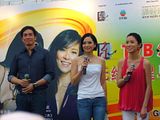 Some clear, high quality pics from DiGdUb: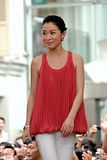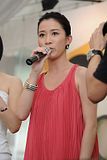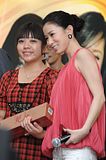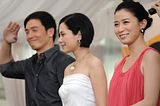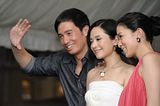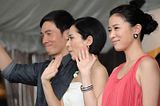 More pics here, please remember to credit DiGdUb if reposted. 如要轉載,請注明出處,謝謝合作.

Pics credit to 二魔乔 from Charvin Baidu Forum: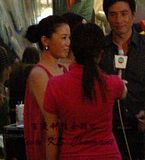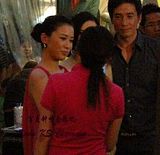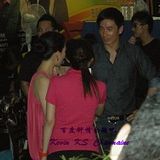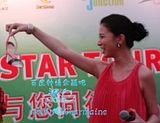 Hehehe... Charmaine removing her heels as one of the treasure hunt item.

Pics credit to 懒懒_CiCi from Charmaine Baidu Forum: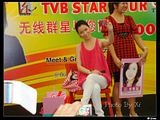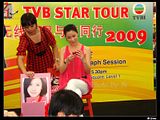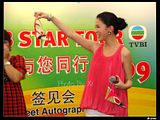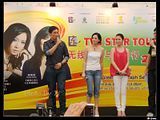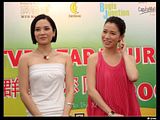 More pics and blog entry here.

Clips of the event, credit to WilliamWangKH. Special thanks to Mare ;)
Click here to view.