Note: Please do not direct link the images! If you must repost, please re-upload to your own image hosting server first and give proper credit. Direct linking is stealing bandwidth from my site - do not simply copy and paste at your personal convenience. Thank you for your co-operation. 请用自己的照片户口!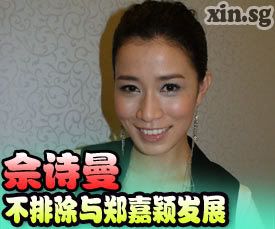 Charmaine Sheh kept praising Kevin Cheng, did not deny the possibility of further development

Click here to watch the 5 mins interview clip.

[Xin.sg 20/07/2009]

TVB leading actress Charmaine Sheh did not hold back at words, kept praising rumor boyfriend Kevin Cheng as very nice, a gentleman and extraordinarily handsome!

Under the invitation of Scorpio East, Charmaine Sheh arrived in Singapore to promote her series [When Easterly Showers Fall on the Sunny West], [Beyond the Realm of Conscience] and [You're Hired]. She graciously discussed about 'beau' Kevin during the interview with Xin.sg, "We knew each other for at least 8 years now, the first time we collaborated was in [Point of No Return]. We are good friends."

She indicates that their relationship has not turned awkward due to the rumors. In fact they often hang out together. She jokingly said: "Our behaviour was not restricted."

When asked on the possibility of advancing into real couple with Kevin, Charmaine did not forget to praise him as being nice, a gentleman and extraordinarily handsome. Afterward, she added with a smile: "Not for the time being, as for the future nobody knows."

Discussing about her peaking career, Charmaine expressed that she has portrayed different roles before. Currently she really wants to portray an ugly girl role – she doesn't mind putting on ugly make up or fat suit. However if you want her to go without make up onscreen, she might have some reservations. "Nowadays we use HD to film and even pore can be seen clearly. If I don't wear make up, I might scare off the audience! Hehe!"

No repost allowed.


Charmaine answered a lot of questions about her upcoming series and filming new series in September with Moses, but it did not appear in the written version of the news. Just focusing on the rumors... blehh...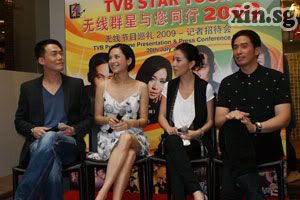 TVB Star Tour 2009 – Micheal Tse almost fell off the stage

Click here to watch the press conference clip.

[Xin.sg 21/07/2009]

Popular TVB artistes Charmaine Sheh, Moses Chan, Sonija Kwok and Michael Tse came to Singapore and attended a press conference yesterday. Michael, who gained immense popularity with undercover role "Laughing Gor" in [E.U.] almost fell off stage from his chair!

The four TVB stars was invited by Scorpio East to promote TVB series. Apart from yesterday's press conference, they also met fans at two autograph sessions.

During the press conference, four of them went onstage one by one. Michael was arranged to sit at the most right corner of the stage. He didn't sit properly and almost fell off stage along with his chair, frightening the media and other 3 artistes.

Luckily he quickly stabilizes his feet, Michael avoided falling in front of the people. "Laughing Gor" really have good reflexes!

No repost allowed.

Interview clips of other artistes (click to watch)
Sonija
Michael
Moses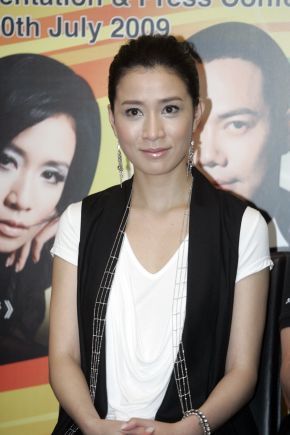 Charmaine Sheh graciously answered questions about her rumors

Click here to watch the interview clip.

[omy.sg/Mypaper 21/07/2009]

Is she happy collaborating with Kevin Cheng in [Beyond]? Does Kevin fulfil Charmaine's requirement in a boyfriend? Are they really dating?

Facing the questions posed by reporter, Charmaine answered them one by one. There's not a single hint of displeasure in her expression, making people more impressed with her EQ level.

Yesterday, Charmaine along with Moses Chan, Michael Tse and Sonija arrived in Singapore attend [TVB Star Tour 2009] organized by Scorpio East. Their purpose is to promote TVB series.

In this TVB grand production costume series [Beyond], Charmaine's character revolves around Moses the emperor and Kevin the imperial guard. Asked with whom she felt happier collaborating with, she ingeniously avoid Kevin and answered: "Of course the emperor! The Emperor have so many delicious food!"

Apart from the scheming and palace conflict storyline in [Beyond], another focal point of the series is...

"Rumors." I barely finish my sentence, and yet Charmaine already answered graciously.

Asked about her opinion on her rumors with Kevin, she displayed her high EQ and smilingly answered: "It's not entirely bad, they have been talking throughout the filming of the series, it's considered a good publicity for the series."

Earlier HK media reported that she requested them to be the middle person and ask Kevin to pursue her. At this Charmaine answered: "I don't have the time to follow Hong Kong media report, sometimes they are very exaggerating."

They continued to be photographed in the same car, are they dating?

Charmaine calmly said: "Be it in the same car or sharing the same table at dinner, it doesn't mean we're dating. In addition, before you date you will also require normal interaction as friends. I won't stop going out with friends just because of rumors. If that is so, then I'll only have female friends!"

Then did Kevin pursue her?

A faint smile appeared on Charmaine's face: "We already collaborated many years, starting from [PONR]. I knew him even before that, just that no one paid attention. Actually he never pursued me. It's just that we can communicate with each other."

Kevin is not her cup of tea

The guy is handsome, the lady is beautiful. Their outer appearance matches well. Does Kevin fulfil Charmaine's requirement in a boyfriend?

Once again, Charmaine answered tactfully: "The company feels that we are compatible, hence arranging us to work together."

When asked about Kevin's positive traits, she said: "He cares about his family and is very stable. However, I prefer a guy who is more optimistic and lively." It seems that she is hinting on Kevin's introvert personality not being her cup of tea.

What about her other rumored beau, Raymond Lam? Is he optimistic enough? "Raymond is too young! He's the same age as my little brother!"

Will she accept Kevin if he really pursues her? "It's hypothetical therefore it's hard to say. Actually, you do not need dating to be happy."

Currently 34 years old, Charmaine had once planned to get married at 27 and have children at 30 years old. She laughed and said: "My dreams are shattered already. Now I have learn to accept and just go along with fate."

Satisfied getting the awards once

Many actresses of different experience and age took part in [Beyond], including Charmaine, Tavia Yeung, Michelle Yim, Susanna Kwan, Kara Hui. This year's fight for Best Actress Award seems to be as colorful as the series itself.

Mentioning awards, Charmaine answered: "Getting awards or otherwise is not in my control. Therefore I won't give myself too much pressure. In addition, receiving them once is good enough."

Charmaine won Best Actress Award and Favorite Female Character Award in year 2006 for her series [Maiden's Vow], becoming the first in TVB history to win both awards.

She even teased the reporter: "The competition during this year anniversary award will be very fierce. If it's not fierce then you guys (media) will feel uninterested. Therefore we will pretend to be fighting for the awards!"

Additional information from Zaobao:

*Charmaine was asked which TVB actor fulfil her requirement for being optimistic and happy. Charmaine answered Bobby Au Yeung, and teased that the reporter did not specify that her chosen answer had to be single.
*Michael teased Charmaine during the press conference and encouraged them to ask about her rumors. Charmaine pretended to be displeased and rolled her eyes at him - twice!

No repost allowed.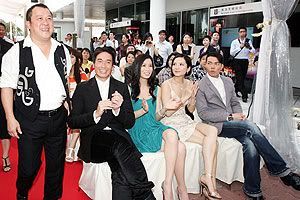 They also attended Scorpio East opening event on 20/7 along with Eric Tsang & Ekin Cheng.

Other news feature and press interview:
4000 fans celebrating Michael & Sonija's birthday
Moses doesn't wish to mention CAT3 movie
Eerational's blog entry and pics
Youtube clips by hoetian84
HK actress Charmaine Sheh tackles romance rumours
Charmaine speaks her mind

Added 24/7/2009 - Razor.TV interview clips
Find Me A Boyfriend! Charmaine Sheh
Uglify Me! Charmaine Sheh


Pics at IMM event, credit to Sugarq from KuangaiTVB BBS: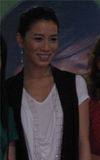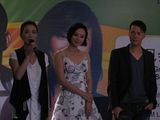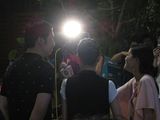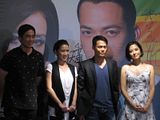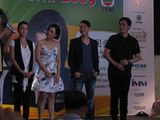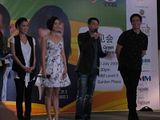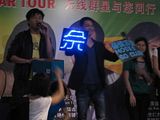 Lol... Michael taking Charmaine and Moses' fan cardboard to count as his treasure hunt items.

Clear, high quality pics credit to DiGdUb: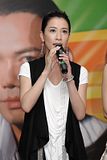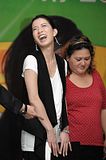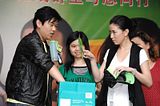 More pics here, please remember to credit DiGdUb if reposted. 如要轉載,請注明出處,謝謝合作.

Pics at airport credit to Chic from KuangaiTVB BBS: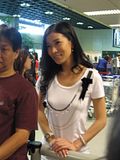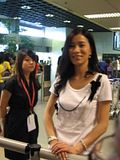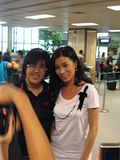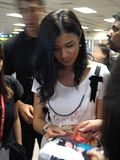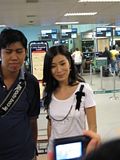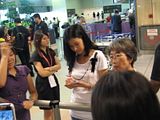 Newspaper scans credit to Charvin.5d6d.com: