[Oriental Daily 05/06/2009]

Rumored couple Kevin Cheng and Charmaine Sheh headed together to South Korea along with Tavia Yeung on a working trip. Kevin frankly admitted that he's interested to expand his career in Korea as korean series is very popular worldwide. Regarding being able to date openly with Charmaine, Kevin laughed and said that the rumors are getting stale, why don't they write about him falling for Tavia next!

Yesterday Kevin, Charmaine, Tavia and TVB executive Virginia Lok headed to Seoul to attend a singing competition. They will be the performing guests. Kevin frankly said that he wanted to expand into another market, such as Korea. "The Korean series are really popular, we hope that Hong Kong series will in turn become popular in Korea too. I will be singing at the event. It's still a long time before I can have my own concert, therefore I feel really happy for Raymond Lam."

Having just wrapped up filming for [Beyond the Realm of Conscience], he hope that the series can be aired soon. However he also understand that his role won't necessary become a hit, because a lot of things have to depend on luck and fate. He added: "I believe in Stephen Chow's philosophy, an actor have to pay attention even to the beggar's gesture at the street to improve on acting." When asked will he accompany Charmaine to go shopping on this trip, he smiled and said: "I won't mind those rumors, they have been spread around so long and getting stale. Next time you should write me falling for Tavia Yeung, that's something new."

On the other hand, Charmaine shares the same attitude towards the rumors. "It's just a 2-day trip, we won't be able to go sight seeing! I'm more concerned about Influenza A, because I did not bring face mask. Hope everything will be fine." As for Virginia, she will be shouldering an important task in this trip. She will help the artistes break into Korean market and facilitate collaboration between the artistes of the two countries. She indicates that Kevin and Raymond are quite popular in Korea. There are requests for them to film series, but the language barrier is the biggest problem.

No repost allowed.



Charmaine, Kevin & Tavia headed to Seoul yesterday. Too bad Sonija didn't come along. I'm still waiting for news pics of them in South Korea, but it's rather difficult due the language barrier. Now combing through entertainment sites.

Charmaine, Kevin & Tavia @ KCTA 2009 TV Awards

Credit to 喜欢KC at Kevin Cheng Baidu Forum.

Translation:
"Top HK stars Charmaine Sheh, Kevin Cheng and Tavia Yeung came to celebrate our Cable TV event. Please give them a warm applause. Charmaine Sheh is really beautiful. We would like to thank the three of them for coming here!"


Lol... they looked a bit blur, because they didn't realize that the emcees are introducing them. It took them a while to realize that the camera is focusing on them and they waved hi. Kevin even have to nudge Tavia's elbow a few times. Haha Charmaine will be so happy if she realized that they are complimenting her.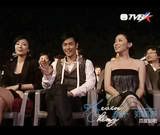 Screencaps from Kevin Cheng Baidu Forum.

Kevin will be singing at ChinChin Song Festival tonight. Charmaine & Tavia will most probably sing as well.

Additional news related to [Beyond] & Charmaine:

Tracy Yip: Sinister imperial concubine

[YWCB.com 05/06/2009]

[Beyond the Realm of Conscience] is year's TVB grand production and was touted as Hong Kong's version of [Jewel In The Palace]. The series is starred by popular artistes such as Charmaine Sheh, Kevin Cheng, Moses Chan, Tavia Yeung, Michelle Yim, Tracy Yip etc. Tracy indicate that her role in the series is a villainous imperial concubine. "She will plot to harm people, but not evil to the extend to murder someone." This imperial concubine hates Lau Sam Ho; the leading female character portrayed by Charmaine Sheh. Tracy expressed that the most unforgettable scene is where she slapped Charmaine: "The story is about Lau Sam Ho who is still a palace maid disobeying my orders and even rebuked me. Therefore I slapped her. The first time I hit, the director says that the effect is not real enough and asked me to repeat again. Therefore I clenched my teeth and hit for real, with a loud 'piak'. Afterward I hurriedly apologize to Charmaine, she is very professional and said that it's just a small matter."

Please do not repost.


This is not the first time Tracy praised Charmaine. Matthew Ko has also praised Charmaine as very patient and caring toward co-stars, especially newbies.