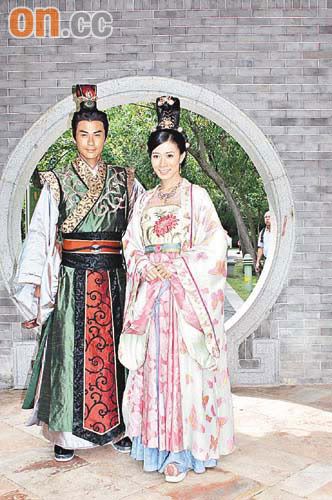 [Oriental Daily 3/6/2009]

There will be a television award this weekend in South Korea and TVB old series [Last Breakthrough] won Most Popular TV Series Award. However, as [LB] main actors Nick Cheung and Raymond Lam are unable to attend the award presentation due to schedule clash, TVB executive Virginia Lok will be shouldering the responsibility instead. She also took the opportunity to promote the upcoming grand production series [Beyond the Realm of Conscience] by bringing along the cast. This creates an opportunity for Charmaine and Kevin to officially date overseas. According to sources, [Beyond] Tavia Yeung and [LB] Sonija Kwok will be coming along in this trip.

No repost allowed.

Departure date: 4/6/2009 (Thursday)
Arrival time: 2:05pm at Incheon International Airport
Flight: CX410

The award mentioned is "KCTA Cable TV Awards 2009". There will be KCTA Exhibition & Conference 2009, which [Beyond] cast will promote the series. Looking forward to press pics and interview!

What's KCTA 2009?

"KCTA 2009 is the Digital Cable TV Show, organized by Korean Cable & Telecommunication Association, is the largest and the only cable TV show in Asia. With its strong international network, the annual event is now upgraded with the newest trend of broadcasting and telecommunication area. KCTA 2009 is also recognized as the only place for significant business opportunity in Digital Cable industry from all over the world."
http://www.kctashow.com/index.html



The floor plan for the exhibition. Not only TVB is placed next to MBC, it's right at the entrance and in front of the stage! CMB really worked hard to promote TVB.

KCTA 2009 will be held from June 4th to 7th. The last 3 days will be focused on promos, while the award will be held on 4th. I'm not sure if Charmaine & Tavia will be staying all 4 days, because as I know Kevin will be leaving to Singapore on 6th for another event.