[The Sun 03/05/09]

Earlier Charmaine wore a sexy evening dress to an event but did not carry a matching handbag with her. Charmaine expressed that she have yet to buy the newest collection, therefore she rather not carry any at all. "Actually I already have target! I plan to buy white or beige colored handbag since it's Spring. Choosing light colors makes people feel more relaxed." When asked to recommend her favorites, she excitedly said: "The shape of Vivienne Westwood's Berkeley bag is very unique, and the butterfly bow is very cute! I also love Loewe's Calle bag, it's very versatile – you can use it for casual look and yet able to carry to a more formal evening event without looking odd at all." Women, they can't make up their mind! Near the end, Charmaine did not forget to add: "I really fancy this season of Emilio Pucci's handbag, it's a beige snakeskin handbag. Snakeskin gives the feeling of elegance. (Sigh) It's so hard to choose!"


I think this interview was made one or two months ago, since Summer is already approaching.


Charmaine is sick again... poor girl. According to a fan who visited her on-set, Charmaine looks really exhausted. She was seen taking flu medicine between filming breaks and she haven't hire a new assistant yet.


Fans, please visit her TVB blog and leave an encouraging message to support her! Even though she is not feeling well, she still left a message to assure fans that she's ok.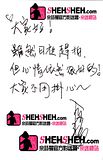 Credit to 小维妮 from www.shehsheh.com

Translation: "Hi everyone. Though rushing to film everyday, but my mood is cheerful as usual! Please don't worry for me. - Charmaine's signature"