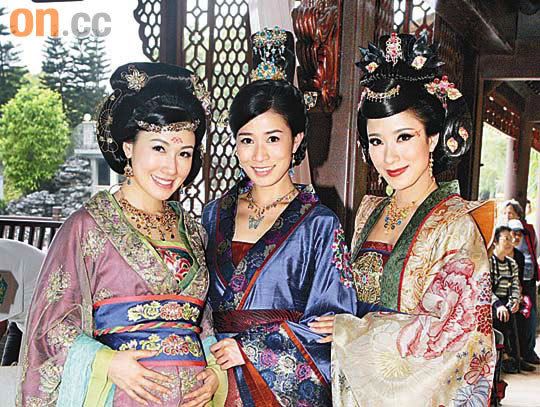 [The Sun 25/04/09]

Tavia Yeung, Charmaine Sheh and Selena Li were filming outdoor scenes for TVB costume series [Beyond the Realm of Conscience] yesterday. Occasionally Tavia will feel her head ornaments and loudly exclaimed that it's very heavy. The head ornaments in this series weighed around 4kg and Tavia expressed: "The most strenuous part of filming this series is the heavy ornaments. My neck and shoulder are swollen and I had to apply medicinal plaster every night."

As for Selena who appeared as a pregnant lady, even though she has to wear fake belly and chest, she still feels that the heavy ornaments is the most strenuous. "This is my first role in a costume series as a pregnant lady. Apart from wearing the fake belly, I also have to pad my chest. (Do you feel very hot and strenuous?) No, because the most strenuous part is wearing the head ornaments. It's so heavy that I almost forgot half of my dialog."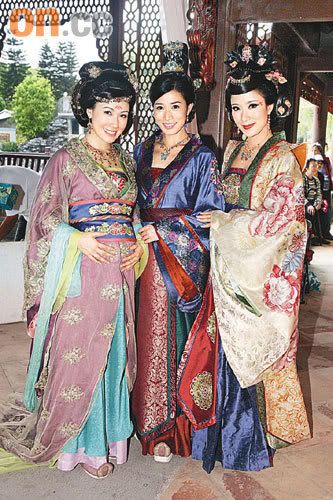 Charmaine's head ornaments are lightest among the trio. No wonder she appeared to be relaxed and teased Tavia that it's not that heavy. Charmaine indicate: "Now I'm still a servant therefore I don't need to wear so many ornaments on my head. I will wear heavier head ornaments when I became a concubine later. I'm also worried that I'll get headaches."

No repost allowed.


So it's not a typo by TVB mag after all... Not that shocked at all though, because the emperor can have any woman he desire. On a sidenote, Tavia changed her hairstyle and it looks beautiful. Judging from her costume, she have been elevated to quite high status at this point in the series.

A few days ago I posted a bad news about [Heaven & Earth] being canceled. Today Nick Cheung mentioned in newspaper that he still wish to film TVB series. However TVB was unable to provide him with a concrete schedule and they have postponed 4 times. Therefore I think that's why he was unable to confirm filming [HAE] all along and even if he films TVB series later this year or next year, we can't be certain that it'll be [HAE].


Also, check out the clip below - it's the advertisement clip of Charmaine for a Chinese flu medicine. Don't forget to visit her TVB Blog as well!

By the way, someone created a poll in TVB forum for Most Popular Actress in 2009, please drop by and vote for Charmaine:

http://forum.tvb.com/viewtopic.php?f=2&t=22802

Note: You must have a TVB account in order to vote.