[Wenweipo 29/03/09]

Kevin Cheng and Charmaine Sheh resumed filming [Beyond the Realm of Conscience] at TVB City yesterday. Earlier Charmaine was photographed by a tabloid sitting in the passenger seat of rumored boyfriend Kevin's car, which she denied afterward. However when she was interviewed by reporters, she changed her statement and admitted about it, even indicated that couples started as friend and asked reporters to force Kevin to make a stand.

Yesterday reporters questioned Kevin regarding his 'underground relationship being exposed', does that mean he's preparing to make it public? Kevin said: "It's the same old story. I can only give the same answer every time. I would like to thank the tabloid for allowing me to be on front page again. However the timing is incorrect, they should wait and write something like this when [Beyond] is airing so that we could save on promotional expenses." Kevin straightforwardly said: "I don't understand why giving a ride could also be featured on front page, I have hitched plenty of rides from other artiste's car, among them Myolie Wu."

Please give me some space

When will he reveal about his personal relationship then? Kevin answered: "I've already said this many times, I will introduce my bride when I get married. As for now I'll just maintain my usual attitude. (Charmaine want you to express?) She hasn't asked me. (Charmaine told reporters to ask you whether you have intention to pursue her?) Huh! So amusing? Wait until she asks me personally; have to wait for the time to ripe. I repeat again, whatever I need to say I have already done so. Thank you for everyone's concern. I hope everyone to give me some space."

Why is he evading? He said: "I've always been consistent in my attitude, I've never changed. I feel that everyone needs space. If you want me to hurry up and get a wife, the give me some space!" Have you reached mutual agreement with Charmaine? He stressed again: "I have always meant what I answered, no need for mutual agreement. If there's any mutual agreement, we should have done so two days ago!"

Incompatible astrology? [It's alright]

Mentioning Fengshui Master Mak Ling Ling indicating that their astrology is incompatible and will affect their marriage, Kevin smiled: "This is too early to say, it's alright for friends. (Mak Ling Ling also said that Charmaine will find her Mr Right next year?) You seem to believe in Mak Ling Ling very much. I've said whatever I need to say. I will introduce my future wife when it's time to get married."

Regarding Charmaine denying hitching a ride on his car and then changing her statement, Kevin strongly supported and said: "If my mum asked me whether I have a difficult time filming, I will answer that I don't feel difficult. (Did your mum ask if you are dating?) Only my mum and I know."

Afterward, reporters conveyed Kevin's intention to Charmaine. Charmaine have a big expression and laughed: "I've never said so, don't frame me! I only said leave things to fate, we are just colleagues."

No repost allowed.


Stupid doggies, stupid reporters! Though I hate tabloids, I detest local dailies such as The Sun and Oriental Daily (same company). They always use repulsive words in their headlines and content. At least Mingpao, Wenweipo and sometimes Singpao have a more balanced report. That's why I often avoid translating The Sun and Oriental if I can get the same information from other dailies.


Anyway enough of my ramblings. The reporters are so 'busy' with the gossips that they did not cover the filming. Yesterday Charmaine, Kevin, Moses and Vivi are filming a garden scene where [Spoilers: Charmaine bumped into Moses while picking flowers for her demised mother. Vivi, a palace maid attempted to assassinate Moses and Kevin came to the rescue.] There's a TVBE clip interviewing Moses, Kevin, Charmaine and I will post it here once it's available. I also heard a shocking spoiler in TVB mag about Charmaine and Moses in the series, but it's not verified therefore I won't reveal it to avoid distressing fans. If you know how to read chinese, the spoiler is at the bottom right caption.



Credit to www.shehsheh.com.

By the way, love Charmaine's new costume - the yellow robe is just gorgeous! Wonder if she will change hairstyle...

News pics: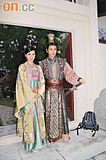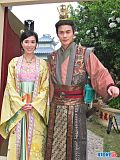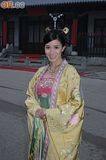 Higher resolution pics courtesy of Charmaine Baidu Forum: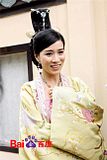 By the way, here's some pictures of Tavia and Susanna rehearsing their scenes.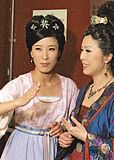 Please remember to support Charmaine's TVB Blog!