From Kevin Cheng Official Website
[Beyond] continues filming... Below is an article from New Monday (yeah, tabloid again) of Charmaine and Kevin filming. Click on the picture and you will be redirected to the full scan in Kevin Cheng Official Website. The article above mentioned about how Kevin like to stare at Charmaine, lol. On the lower left pics, Charmaine shared some snacks with Tavia.



Tavia harassing Rainbow (Charmaine's personal assistant)? I think Tavia is just fooling around, but quite embarrassing if I'm Rainbow, haha. Scan credit to Tavia.org.

Added: Mag pics, please credit if reposted: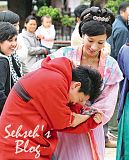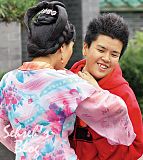 Kevin and Moses filming fighting scene.




Click on picture to be redirected to KCOW gallery. There's also a clip in video section.
[Scoop] Charmaine, Tavia & Moses filming Beyond
Credit to phasebb from youtube.
Translation:

Tavia: Everyone please take a look at the background. This huge and beatiful set is the inner court of our series [Beyond]. Look at Moses, who is sleeping. He's very tired, he already filmed the whole day (fighting scene). Stop scratching your nose, look at the camera. Your Majesty! He's tired.

Moses: I know you're going to disturb me.

Tavia: Yeah, this is our Empress, Sum Jie (she made a minor mistake, it should be Empress Dowager haha). They need to start filming now, so we won't be bothering them. We'll go elsewhere. Continue sleeping then, it doesn't concern you anymore. We'll continue to look around. Today's set is beautifully built, it's the inner court of the palace.

Tavia: Since this is [Beyond], there will be many beauties. Everyone please look at the camera. Everyone found a way to upgrade themselves while not filming. Yes, it's 'upgrading'. Everyone is doing their homework, very hardworking. Kuk Jie (Susanna) is reading today's script. Oh no, it's not.

Susanna: Episode 5.

Tavia: You are filming that today?

Susanna: Yes, I have to hit you later.

Tavia: Yes, she have to hit me later so she's trying to build up her emotions right now. Michelle is busy copying her homework.

Michelle: Doing my homework.

Tavia: This is my good sister. Today she will... most of our scene today are mostly standing, but mine will be kneeling the most.

Charmaine: No, I'm still waiting. I'm waiting to see how you will be slapped.

Tavia: Then you should go 'upgrade' yourself, everyone there is doing the same.

Charmaine: Watch you being slapped on the mouth, haha. Later she'll turn up swollen face, swollen lips.

Tavia: Yes, like this.

Tavia: Kuk Jie (Susanna), please don't hold back on me, be more serious and don't hit so hard. Hahaha...

Susanna: She's really obedient, I don't have the heart to hit her.

Host: Today [Beyond] is filming the scene of Tavia being slapped on the mouth by Susanna. Susanna is worried about hitting her. However, Tavia said she doesn't mind. Did you have any preparation? Are you afraid to end up looking bruised? Or very painful?

Tavia: I didn't. I ask them to hit for real, I don't mind. I'm very tough and professional. Lol...

Host: Charmaine said that the scene is good.

Tavia: No, Charmaine said "Let me do the hitting".

Charmaine: I'm anticipating the scene. I came back to studio just to watch that scene. Haha (Tavia slapped Charmaine's butt lol)

Host: Susanna acting is very good, this shouldn't be a trouble to her. But when it come to filming costume series, she need some tips from good sister Michelle.

Michelle: I don't need to teach her. She is already stealing tips from me by observation.

Susanna: Sum Jie also.

Michelle: She learn quickly by observing Sum Jie and others.

Host: Moses is the only male cast for the scene today. Surrounded by beauties, Moses doesn't dare to fool around. Perhaps it's related to him publicly acknowledging his relationship with rumored girlfriend Bernice Liu? Recently you look happy due to dating, Bernice already admitted that you two 'beginning from coffee'.

Moses: I don't know what you're talking about.

Host: How come? It's so sweet, 'beginning from coffee'.

Moses: I know about coffee, I also know Bernice Liu, but I don't know about dating.

Host: She admitted! You didn't watch that?

Moses: Really? What she said?

Host: She said you two 'beginning from coffee'. Why are you blushing?

Moses: I had a fight today. This morning I practised martial art, the fighting scene made mey body aching all over.

Host: Don't try to divert the topic. But dating is really sweet! The lady already admitted, if the guy doesn't admit that is so pitiful!

Moses: What to admit?

Host: Your relationship. The one that begins from coffee.

Moses: Like I said, I know about coffee, I also know Bernice Liu, but I don't know about dating. Hehehe...


Remember to support Charmaine's TVB Blog! Keep the blog ranking up up up!