[Wenweipo 2/1/2009]

Charlene Choi, Charmaine Sheh, Bowie Lam, Deep Ng, Sherman Chung, Ken Hung etc attended New Year countdown event at Tsuen Wan Plaza.

Charmaine who wore a beaded top arrived at the venue together with Bowie Lam. Charmaine indicated that she participated in countdown event annually and it's lucky that her earning has not been reduced. She have another private celebration to go to after she finished her job but because she need to leave at 4:00am for opening events in Mainland China, she might not be able to attend the party. (Is it a date with rumored boyfriend Kevin Cheng?) "Didn't ask him out, don't know where he is. (Did you contact him to send him New Year wishes?) I will sms to all my good friends."

(Are you afraid of running into paparazzi while dating?) "No, I already have jobs for two consecutive days therefore I didn't plan to go out. (Did you exchange Christmas gift with Kevin?) No, I held a party at home but all of them (guest) are outside entertainment circle. (Are you handling your relationship in low profile manner?) Please do not ask misleading questions." Charmaine planned to accompany her mother in Hawaii during Chinese New Year.

When Charmaine sang [Colorful Universe] onstage, she sang the wrong key and forgot the lyrics. She embarrassingly smiled and said: "I rarely sing, give some support people!" Everyone immediately clapped hands to encourage her.

No repost allowed.


Happy New Year everyone! Finally back from holiday. To everyone who have sent me cards, gifts and wishes, thank you very much! I hope you all had a wonderful celebration as well.


Lol... Charmaine singing wrong key... must practice dear! She sang two songs that night, [Colorful Universe] and [Needing You Every Minute]. According to fans attending the event, she sang the 2nd one just fine.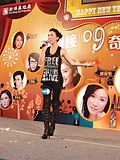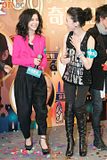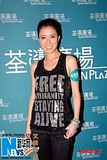 High resolution pics credit to Charmaine Baidu Forum: