[Ent.163.com 21/01/2009]

Recently there's news report indicating that Kevin Cheng and Charmaine Sheh one-year relationship has ended due to Charmaine feeling that Kevin's personality is too boring. They were not arranged to appear as couple team at TVB Annual Artistes Dinner on January 20th. However they denied the rumors of breaking up.
Kevin: We are just good friends
Kevin expressed helplessness about the rumors of dating and then break up. "I can't control what other people want to write. I've said before that we are good friends. Friends will not break up, only sever ties. We are still good friends." Kevin will be filming new series [Palace Scheme] with Charmaine next month. When questioned if he is worried of the tabloids, he said: "Not worried, they will surely write something since it has news value. They probably will write about us reconciling next month."
Charmaine: Rumors are better than no news
As for her rumors with Kevin, Charmaine will just laugh it off. She frankly said that she rarely read the tabloids and only knew about the 'break up' after reporters called to verify. Charmaine was asked if she feels frustrated with the rumors: "Not really, it's not good not to have news at all!" Though it's negative news, she doesn't feel affected by it. Charmaine's role in the upcoming series [Palace Scheme] is similar to Dae Jaeng Gum. She said that the role is similar to herself as they're both kind hearted and enjoy helping others. She also hopes that this series will achieve similar success like [Jewel in the Palace].
No repost allowed.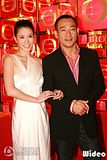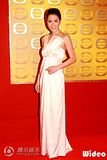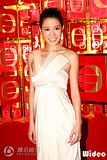 Charmaine looks ethereal in the white dress... She walked the red carpet with Bowie and sang a song last night. Will post more news tomorrow.
(For your information newspaper cut off time is usually 4-5pm, as the event was after 6pm they could not make it to next day's paper).
TVB Annual Artistes Dinner (华丽翡翠星力量) will be aired on
24th January, 11:00pm
via TVB Jade.
On a sidenote, [Dining With The Stars - Lunar New Year edition] will be aired on 25th January, 8:00pm via TVB Jade as well.
p.s. Remember to vote for Charmaine @ Astro Wah Lai Toi Drama Awards 2008!