Note: No repost allowed. Thank you for your co-operation.
Clip credit to 惑月 from www.shehsheh.com
Charmaine says that earning money is most practical

[Wenweipo 13/1/2009]

TVB recorded [Dining With The Stars – Lunar New Year Eve Edition] last evening and opened 10 banquet tables. 4 tables are for the artistes while the additional 6 are for audiences. However, only Christine Ng, Yoyo Mung, Fala Chan, Kate Tsui, Charmaine Sheh, Astrid Chan, Bosco Wong, Wayne Lai and two VIP guests Law Bo Man and Craig Au Yeung get to taste expensive dishes such as abalone and shark fins. The rest of artistes such as Suki Tsui, Leanne Li, Janet Chow, Vivien Yeo, Edwin Siu etc are there just to join the fun.

Earlier Eric Tsang and others hosted New Year Eve party at a hotel and there were reports that Charmaine attended the party uninvited and end up being mocked by Eric, causing her to lose interest and went out to smoke on the balcony. Charmaine asked if she could decline to reply, as she has not read tabloids for quite some time. When asked if she was uninvited, she answered: "Everyone at the party were invited." Being pictured smoking, will she quit smoking to protect her image? "Smoking in moderation is acceptable."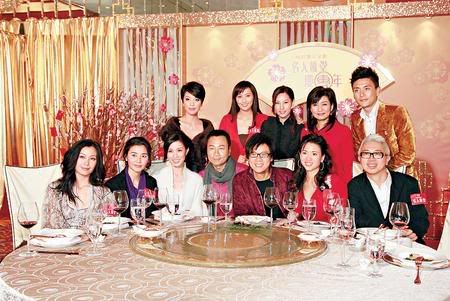 Mentioning New Year wishes, Charmaine wished for good health and earning more income. Does she wish for fewer rumours? "It's the same every year, I'm numbed and doesn't want to waste my wishes. I am more practical, earning money is my focus. Love is not that easy to find, while finding money is more possible." Charmaine is currently on holiday break and will be returning to Hawaii to visit her mother for Lunar New Year. Kevin Cheng is also on holiday break, will he come along to visit the elders? Charmaine expressed that she only knew that he's on holiday, but she is going alone and upon returning she will be filming a costume series with him.

No repost allowed.


I know, this might be a shocker to some fans (and maybe rejoice to anti-fans who can't wait to condemn her). Yes, smoking is bad and of course Charmaine knows it too. But working in the entertainment industry where stress and exhaustion for working 24/7 is abound, most people who works in the field have to rely to smoking to relieve themselves. That picture was taken on New Year Eve, where she is expected to work 24 hours continually and leave for Mainland China 4am in the morning.

Now I don't encourage her smoking, nor does she promote smoking as she's only caught once in her 11 years of working in the field, that doesn't turn her into a chimney pot, chain smoking addict. Of course as a fan I hope to see her quit smoking but I do not see reason to suddenly hold prejudice toward her for being social smoker - she is still the Charmaine Sheh we know, the hardworking TVB actress. Her privacy should be respected and she showed that by not giving cliche answer when being asked about quitting smoking.


Pics: