Part 1
Part 2
Credit to Charmaine Baidu Forum
Thank you to
Qingwa
for the download link:
http://www.mediafire.com/?lwjymjj5zz5
[玄学天王] Feng Shui King is an astrology show hosted by Margie Tsang and Halina Tam which incorporates both eastern and western elements. They discussed about Kevin and Charmaine's rumors, which was quite funny. Anyway, it's just an entertainment show so there's no need to take them seriously.
Summary of the conversation in chinese:
http://tieba.baidu.com/f?kz=510944042
Charmaine's upcoming event: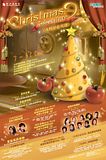 Tsuen Wan Plaza [The Tale of Despereaux] Welcoming 2009 Miracles
Date: 31 December 2008
Venue: Tsuen Wan Plaza
Time: 10:00pm - 12:30am