Note: No repost allowed. Thank you for your co-operation and "Merry Christmas"!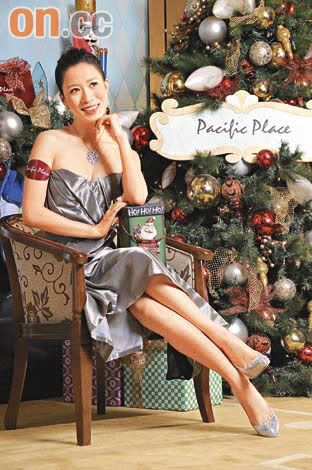 [Oriental Daily 25/12/2008]
During the universal holiday celebration like Christmas Day, everyone would like to spend it with loved ones. Charmaine made no exception. Her wish for next year is to celebrate Christmas with someone who loves her. At some point in the interview she praised Kevin Cheng for being a gentleman and seems to hint that they have room to develop further.
Since the rumor of [Kevin-Charmaine romance] spread out, Charmaine's work have not been affected by her rumors with Kevin. Instead her schedule from Christmas until New Year are packed and providing her ample earnings. Recently she attended a Christmas event as Pacific Place as special guest. Apart from earning a sizable amount of fee, she also fulfilled her childhood dream of dancing on top of a musical box.
Planning to buy property
Charmaine revealed that in the 24 hours of New Year Eve and New Year alone, she will be attending 3 events and earning more than 7 figure sum. When asked how she will reward herself, Charmaine grinned and said: "The property price is dropping; I hope to buy a property next year. I prefer to stay in Hong Kong area and I have stayed in my current place for more than 4 years therefore I hope to have a change of surrounding."
Progress in love department?
Mentioning Christmas wish, Charmaine frankly said she hope to meet someone who loves her and spend Christmas with her next year. When asked if Kevin is Mr Right, she smiled sweetly and said: "He is a gentleman, a good guy!" Though she straightforwardly said that their relationship is still at good friend stage, but destiny cannot be predicted, seemingly hinting that their relationship is progressing!
No repost allowed.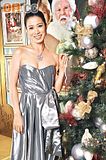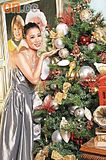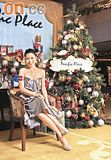 Merry Christmas Everyone!!!
Hope you all have a wonderful celebration last night! I hope Charmaine have fun too and may all her wishes come true.
By the way, Charmaine dropped by at www.shehsheh.com last night and left a message to fans: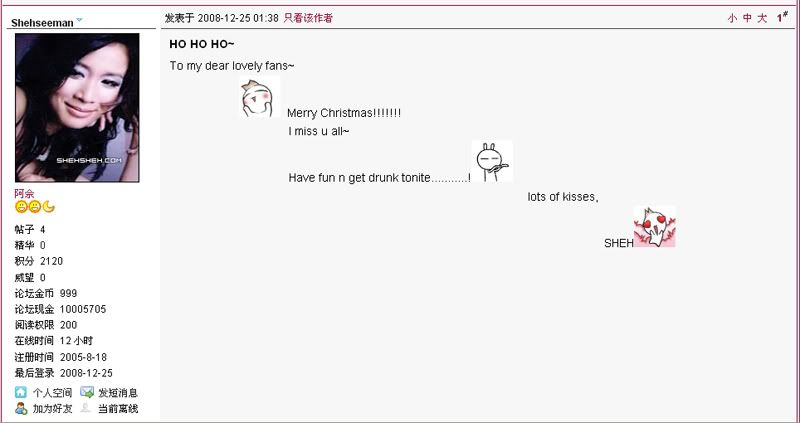 To view and reply to her message, go to the link below:
http://www.shehsheh.com/bbs/viewthread.php?tid=18699&extra=page%3D1