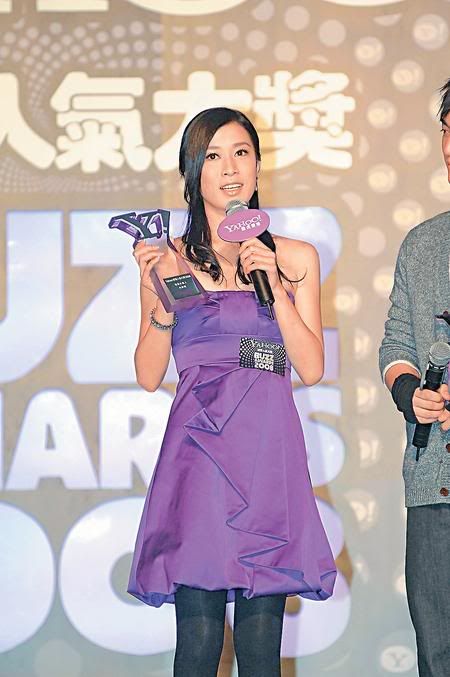 From on.cc tv
From Charmaine Baidu Forum
Added 16/12/2008

From appleactionnews
Singpao [12/12/2008]

TVB artistes Fala Chen, Linda Chung, Raymond Lam, Bosco Wong, Charmaine Sheh, Wong Cho Lam won a lot of awards at Yahoo! Buzz Awards 2008. Charmaine who took part in recording a music album (Lady in Red) few years ago does not feel envious of Linda and Raymond's progress in in both acting and singing field. She hope to concentrate in acting and she will be filming new series [Palace Scheme] coming February along with rumored boyfriend Kevin Cheng, Moses Chan, Michelle Yim and Susanna Kwan. She will be having a triangle relationship with Moses and Kevin, with Moses liking her but she is in love with Kevin instead. Then who she prefer; Moses or Kevin? She joked: "I want both! It's happier with Moses, because he knows how to joke. (And rumors with Kevin?) Haiz, yes! We'll have rumors if we're together."

Recently finished filming [Enterprise Doctor], Charmaine indicate that it's the only series where she's not required to cry at all. Therefore she likes filming comedies. She also revealed that in the past she find it hard to pull out from her character in [Heavenly Sword Dragon Sabre 2000]. Once she even cried uncontrollably while driving back home. She hope she will only film this kind of series once in a few year, otherwise she'll turn crazy.

No repost allowed.

Charmaine won Most Search TV Female Artist Award.