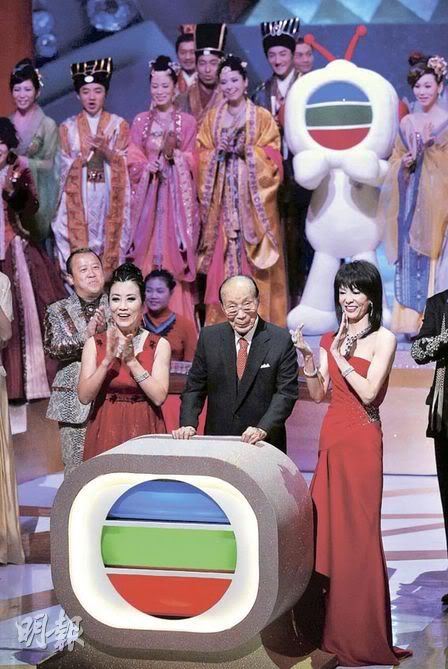 19 November 2008
Emma Lam

TVB celebrated its 41st birthday this evening with the annual Anniversary Extravaganza <萬千星輝賀台慶> and proceedings were opened in the traditional way with an appearance and lighting up ceremony by the station's founder Sir Run Run Shaw (邵逸夫), assisted by MC's and "big sisters" Liza Wang (汪明荃) and Carol Cheng (鄭裕玲).

101-year old Sir Run Run then retired to the audience with wife Mona Fong (方逸華) and board director director Mrs Christina Lee (利孝和夫人) to enjoy the entertainment laid on by over a hundred of his artistes and performers. Miss Hong Kong winners Edelweiss Cheung (張舒雅) and Sire Ma (馬賽) also kept him company throughout the evening.

The show was opened by a parade featuring all of the artistes, who were dressed in a variety of Chinese and Western period costumes to take part in a traditional ballroom dance.

One of the more unusual acts during the evening was by Timmy Hung (洪天明)'s group, consisting of Stephen Wong (黃長興), Francois Huynh (黃長發), Sharon Luk (陸詩韻) and Lee Heung Kam (李香琴). Each artiste took it in turn to use a trampoline to jump up and write a calligraphy character on a high board. Their creation formed the greeting "Like the sun at high noon", representing TVB's current success. Former stuntman Eric Tsang (曾志偉) gallantly took the place of Kam to put up the last piece of the message - a birthday candle.

Liza continued her string of modern dance performances,this time joining Ron Ng (吳卓羲), Nancy Wu (胡定欣), Michael Tse (謝天華) and Kate Tsui (徐子珊) for a hip-hop routine and the veteran seemed to be just as active and full of vitality as her juniors, vigorously shaking her body during the act.

The comedy element was provided by the cast members of this year's most popular drama Moonlight Resonance <家好月圓>, including Lee Si Kei (李司棋), Susanna Kwan (關菊英), Ha Yu (夏雨), Michelle Yim (米雪), Raymond Lam (林峯), Moses Chan (陳豪) and Bosco Wong (黃宗澤) who were joined by Eric, Charmaine Sheh (佘詩曼), Myolie Wu (胡杏兒) and Christine Ng (伍詠薇) for the anniversary sketch. As usual, the script was soon thrown out of the window and a lot of chaos, messiness and improvisation ensued, but everyone had a good time and many laughs were had. Ha Yu, Raymond and Wayne Lai (黎耀祥) had prepared for the worst by wearing raincoats, but with the mischievous Eric soon found a way to make sure that they were both splattered with cream cake.

Falling victim to Eric's pranks twice, Susanna laughed afterwards that she was not upset and was game for a laugh because everyone was having so much fun. She was relieved that her sponsored jewellery had escaped being damaged by the cream.

Master impersonators Louis Yuen (阮兆祥), Johnson Lee (李思捷) and Wong Cho Lam (王祖藍) paid tribute to the late Lydia Sum (沈殿霞), re-enacting her iconic performance with the other TVB "Golden Flowers".

Among this year's lucky winners of the Anniversary Bonus were Charmaine, who won HK$25,000 and Shirley Yeung (楊思琦), taking second prize of HK$50,000. The top prize of HK$120,000 went to a very shocked and ecstatic Grace Wong (王君馨).

In this climax to the anniversary month celebrations, the ladies made the most of the opportunity to show off their sponsors' jewellery. Leading the way in terms of value was Si Kei, who wore a set of rubies and diamonds worth HK$40 million. Liza displayed a set of jewellery worth HK$20 million that included an unusual pear shaped diamond ring, worth HK$8.5 million on its own. Her hosting partner Carol modelled a set of rubies weighing in a total of 41 carats and worth HK$18 million. She said that she had arranged her outfit with Liza in advance and had agreed that they will both wear celebratory red to resemble two big lucky packets.

After wowing the crowds with her revealing dress at the anniversary awards ceremony, Sonija Kwok (郭羨妮)'s outfit seemed a lot more reserved. She explained that the last outfit was already her limit in terms of sexiness. Wearing sponsored jewellery to the value of HK$20 million, Sonija was asked about recent reports that she has been dating a Raymond Lam-lookalike. She said that the person in the pictures was a friend and she was not dating. She then asked for the press not to disturb him because he is not from showbiz circles.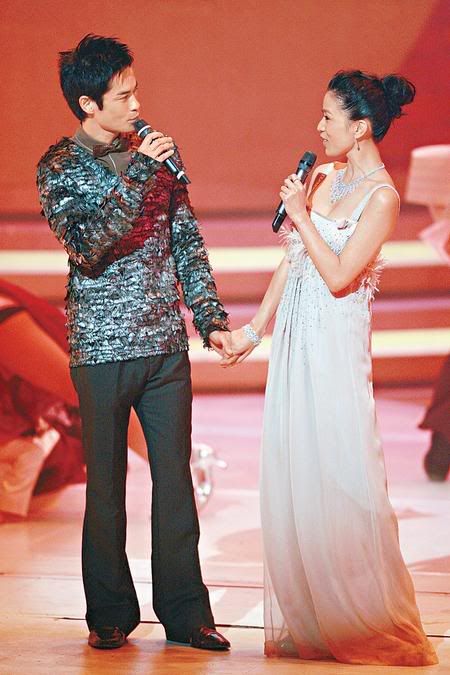 Still playing along with the rumours, Charmaine was arranged to perform with rumoured boyfriend Kevin Cheng (鄭嘉穎) and the couple seemed very relaxed during their duet. She showed off jewellery worth HK$11.4 million.

Jewellery worn by Myolie Wu (胡杏兒) totalled HK$11.3 million and Fala Chen (陳法拉) and Sharon Chan (陳敏之) also received sponsorships worth several million dollars. Susanna's diamond set was not quite as valuable as Si Kei's or Liza's, but was still extremely eyecatching.

The evening was rounded off by the cutting of a giant birthday cake by Mrs Li as the executives joined the artistes in raising a glass to the next 12 months.

News translation credit to Batgwa.com.

Additional news translation:

[Wenweipo]

The younger fadans such as Fala Chan, Myolie Wu, Charmaine Sheh and Suki Tsui received sponsor from Chow Tai Fook Jeweller. Charmaine wore two sets of diamonds accessory worth HKD11.4 million, amounting to 180 carats. She look elegant reflecting her status as dongka fadan.

[Takungpao]

Last night's show climax was during the sketch performed by [Moonlight Resonance] cast Louise Lee, Susanna Kwan, Michelle Yim, Ha Yu, Moses Chan along with Eric Tsang, Charmaine Sheh, Myolie Wu, Bosco Wong and Christine Ng. The cast went wild during performing and some come prepared, such as Ha Yu and Wayne Lai wearing a raincoat. However, Ha Yu and Susanna still could not escaped from Eric's prank, resulting being hit with pies. Susanna was hit twice and did not have chance to retaliate. To avoid being hit, Charmaine quickly made her exit from the scene.

On the other hand, this year TVB did not give out apartment and car as lucky draw prize, seemingly affected by the economic crisis. Three lucky draw receipients Charmaine won HKD25000, Shirley Yeung HKD50000 and Grace Wong won HKD200000 cash and HKD400000 worth of prizes!

[Singpao]

TVB purposely arranged for their rumored couple artistes to appear together. Kevin Cheng and Charmaine held hands and sang 《难得有情人》 with good chemistry. Charmaine smiled sweetly while singing while three other past on-screen lovers Wu Fung, Ng Kuan Lai, Lui Yau Yee, Ng Wai Kwok, Lee Lam Lam and Sek Sau also received applause for their performance.

No repost allowed.


Here's Charmaine & Kevin's performance. Clip credit to Ivy.