11 November 2008
Emma Lam

The first of this year's TVB red carpet anniversary events took place this evening at TVB City as the station's artistes gathered in their fineries for the 2009 TVB Sales Presentation <2009無線節目巡禮>. In this preview event for prospective sponsors and advertising clients to take a peek at the forthcoming series and planned productions, the station also took the opportunity to showcase some of its artistes and the strength of its drama franchises.

Hosted by TVB General Manager Stephen Chan (陳志雲) and Amigo Chui (崔建邦), this year's show featured dance performances from the Moonlight Resonance <家好月圓> and The Gem Of Life <珠光寶氣> cast members and a show of muscles from a group of TVB's leanest and meanest male artistes. In the usual tradition to check on their status standings within the company, much attention was paid to the order in which the artistes made their final parade onto the stage for the last celebratory photocall. However, there was particular focus this year on rumoured couple Kevin Cheng (鄭嘉穎) and Charmaine Sheh (佘詩曼) who entered the stage hand in hand just behind Liza Wang (汪明荃), Carol Cheng (鄭裕玲), Michael Miu (苗僑偉) and Bowie Lam (林保怡).



Clips were also shown offering highlights of series that are planned for production or airing in 2009. After quiet years for Ron Ng (吳卓羲) and Myolie Wu (胡杏兒), they both led in terms of output for the coming year with four new series each. Myolie was particularly excited because this will tie in well with the launch of her music career and she hopes this will be a boost for her. Asked if she hopes to win music newcomer awards next year with her rumoured boyfriend Bosco Wong (黃宗澤), she smiled that it would be great to win any award.

Ron said that he was thrilled at the opportunity to have four series earmarked for next year and hoped that this will give his popularity a much needed boost. Asked if he will be avoiding gossip, he said that these things are unavoidable, but he will concentrate on his work.

Also with four series planned for next year, Moses Chan (陳豪) smiled that he was very fortunate and happy. He said that he is shameless and he will continue to film new series as long as he keeps getting paid.

Ada Choi (蔡少芬), Shirley Yeung (楊思琦) and Tavia Yeung (楊怡) emerged among the most eyecatching of the ladies in this first TVB glamour event. Ada wore a low cut wine-coloured evening dress contrasted against HK$4 million diamond jewellery provided by her sponsors Baijue Jewellers. Asked if she felt that it was unusual for her to be placed in the front row of the parade even though she is not TVB managed, she smiled that she has always had a strong relationship with the company, so this arrangement was not a surprise.

Tavia looked elegantly confident in her HK$30,000 scarlet Donna Karan gown. Asked if she was hoping to take an award at the anniversary awards ceremony on Saturday, she smiled that she has already made a healthy income this year, but if she was to win an award too, then this would be the icing on the cake. Shirley wore a revealing halter-neck dress that showed off her back and shoulders, as well as a sneaky patch of her abdomen.

Among the fashion faux-pas of the evening were Kate Tsui (徐子珊) who seemed to be sporting a string of eggs around her neck and Yoyo Mung (蒙嘉慧), whose olive-green dress was a complete colour clash with 'big sis' Liza's mandarin-style dress. Yoyo responded by saying that the dress was from a sponsor and she never imagined that someone else would wear such an unusual colour.

The next event in the TVB Anniversary calendar will take place on Saturday evening, when the winners of the TVB Anniversary Awards will be revealed.

News translation above credit to Batgwa.com.

Here's additional translation related to Charmaine:



[The Sun 12/11/2008]

At the end of the ceremony, Kevin Cheng was arranged to hold rumored girlfriend Charmaine Sheh's hand while another rumored couple Bosco Wong and Myolie Wu also paired up to meet the advertisers, causing the two pairs to feel embarrassed! When asked if this Kevin was purposely arranged by TVB to hold hands, Charmaine said: "Of course it's arranged by company! I will not feel embarrassed, it's just work. The purpose is not appearing with whom." Kevin agrees with Charmaine and see this as part of their job.

Due to rushing to film [Enterprise Doctor], Charmaine did not attend the gala (red carpet) and only attended the presentation ceremony.

[Wenweipo 12/11/2008]

Recently there was a tabloid accusing Charmaine of taking placenta injections. Charmaine denied: "The magazine is getting more ridiculous, I can only say that it's not true." Reporter mentioned that she only have 2 series next year, is it getting lesser? Charmaine indicate that both series total up to 75 episodes and she will take 2 months holiday break to visit her mum once finish filming.

Please do not repost.


Charmaine looks lovely in that blue tube dress. Poor girl, rushing to film [Enterprise Doctor]. She does seems a bit pale and I hope she get plenty of rest. Charmaine is going to perform during Anniversary Celebration, TVB did not reveal what it is at the moment, hehe. The sales presentation ceremony will be aired after TVB anniversary celebration show on Nov 19, 2008.

Pictures: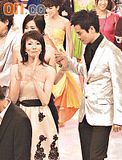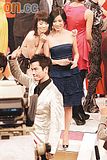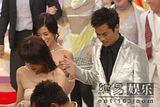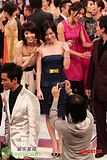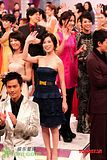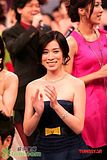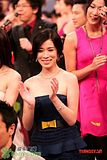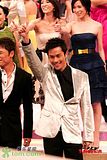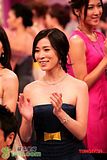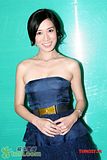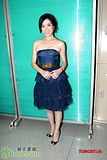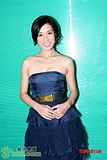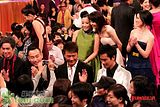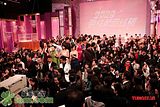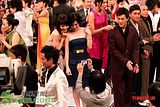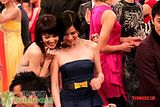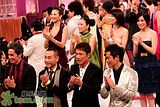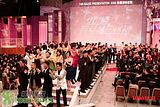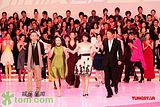 Clip credit to Charmaine Baidu Forum