Note: No repost at AsianFanatics allowed. Thank you for your co-operation.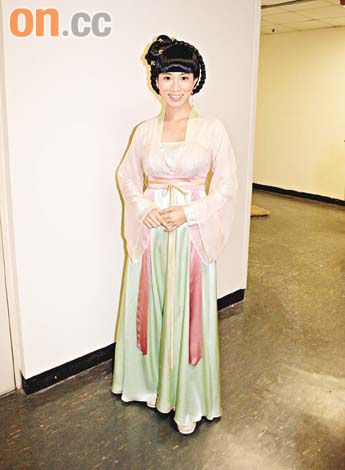 [Takungpao 18/10/2008]

Rumored couple Kevin Cheng and Charmaine Sheh filmed sales presentation clip for new series [Lau Sam Ho] last night. They elude each other and purposely went separately to canteen and makeup room to avoid being pictured together by reporters. On the other hand Kevin who was exposed by Niki Chow for lying maintain that he spoke the truth, but does not want to say further to hurt a woman.

TVB new series [Lau Sam Ho] filmed sales presentation clip at TVB City yesterday. Apart from the rumored couple Kevin and Charmaine, other cast such as Tavia Yeung and Moses Chan also participate in filming. The cast started filming since noon and Charmaine only walked out of filming studio during dinner break. Mentioning Kevin, she graciously indicates everyone will be in same location later. However she turned and walked away after finish talking, saying that she is rushing to eat and the rest is not her concern.

Afterward Charmaine, Tavia and Moses went to canteen to have dinner. At this point Kevin appeared in make up room. When it's time to enter filming studio, they can only see Tavia and Moses returning. To avoid being the same location with Kevin, Charmaine secretly enter filming studio through backdoor. Kevin point out that this sales presentation clip will be a few minutes long; in the story he likes Tavia, while Charmaine likes him. He also heard that the series will only be filmed a bit later and the cast includes Tavia, Moses, Susanna Kwan, Charmaine and Michelle Yim. He indicates that the cast is very strong and it will be great if they really film the series.

Asked if he would like to share more on-screen time with Charmaine, Kevin replied that the script will be decided by producer. If they really film the series, is he afraid of spreading rumors with Charmaine again? He said these things couldn't be avoided, not that he could mind because they will still write anyway. He will just fulfill his own job responsibility. Earlier he expressed that he have not contacted Niki for half a year, but afterward Niki exposed him saying that they still met since the half year. Kevin maintained that he spoke the truth: "However as a man, I could not say further to hurt a woman in any circumstances. Therefore whatever I wanted to say, I think it's enough."

Earlier he was accused of dating six female co-stars and recently he was secretly photographed meeting another girl, with reports saying she was the 7th. Kevin said that the pictures were taken over a year ago and he thanked everyone for making him the magazine cover for so many issues. As his series [Last One Standing] will finish airing soon he hope the spot for magazine cover will be given to another person. He helplessly expressed the person in the picture called him, because she is his cousin, which is also Vinci Wong's little sister. "If this goes on, no friends and relatives will dare to eat with me." The reporter points out he should bring out the real girlfriend to stop the rumors. Kevin admitted he has none at the moment and he also need time to find one as he doesn't want to stay single forever. The does Charmaine fulfills the criteria of being his wife? Kevin clarifies that their relationship is just colleagues.

If reposted please give due credit. No repost at AF allowed.


Meddlesome reporters...

p.s. In the clip, there will be a scene of Charmaine being imprisoned.. maybe framed by someone?