Recently, Hong Kong TVB leading actress Charmaine Sheh quietly came to Shanghai to attend the promotional event for Mei Lan. This is Charmaine's first time in endorsing a Mainland China cosmetics brand.

Allegedly, Charmaine's endorsement fee exceeded 7-figure sum. This is the result of her increased popularity from TVB series aired in Mainland China from recent years.

In year 2000, Charmaine became popular overnight due to [Return of the Cuckoo] and in 2004, and her popularity was increased in Mainland China after [War and Beauty]. She holds the title of double TV Queen after winning TVB Best Actress and Favorite Female Character award. In the past few years she have worked in collaboration series such as [Dance of Passion] and [The Drive of Life]. She will be filming another series soon in October. This trip to Mainland China is considered a warm up before starting a new series.

Insider revealed that Charmaine silently arrived in Shanghai on September 8th. As this is Charmaine's first time endorsing Mainland China cosmetics brand, she purposely came to film the TV advertisement and photo stills for Mei Lan brand and attended the press conference on September 10th. To avoid affecting her work, she kept her arrival in Shanghai a secret and even the sensitive media reporters have not detected anything.



Having 80 years old fan, Charmaine felt lucky

On the 8th, Charmaine arrived in Shanghai to take part in Mei Lan advertisement filming. When she arrived at the outdoor location, a crew worker was told that an 80 years old fan wish to take a picture with her. Charmaine was surprised.

The granny has some difficulties in walking and she became very excited when she saw Charmaine. To avoid overexciting the granny further, crewmembers waited outside the room while Charmaine and her assistants accompanied her. When asked about her feelings having such an elderly fan, Charmaine expressed happiness and that she is very lucky (to have such fans).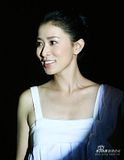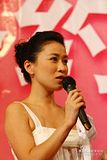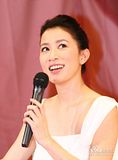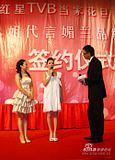 Pictures credit to Sina Forum. Special thanks to Charmaine Baidu Forum.

More pictures credit to Charmaine Sheh Baidu Forum:



Two more pics: (Added Sept 22)

Looking forward seeing her Mei Lan adverts soon! Anyway, please note that I have made some changes from the original article by omitting some over the top remarks. And DOP is not a collaboration series.

Updated: Meiland TV ad clip:



p.s. Happy Mid-Autumn Festival!