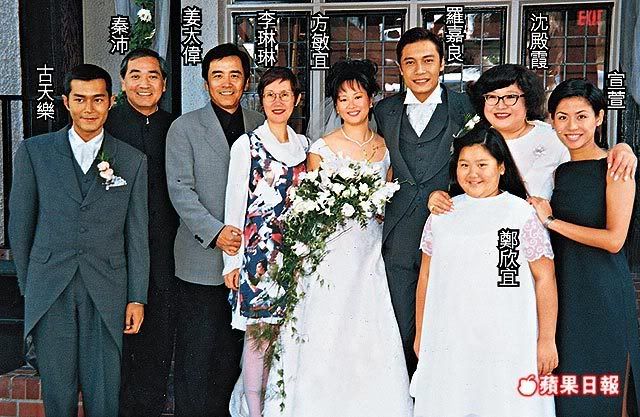 Faded feelings, but no 3rd party involved
Gallen ends 10 years of marriage, money and son goes to ex-wife

[On.cc 06/07/08]
Pictures from Apple Daily

Well known as Mr Nice Guy, Gallen Lo suddenly revealed that he is divorced from his wife of 10 years Fong Mun Yee! As their relationship goes as far as 20 years, a lot of people feel shocked. Yesterday, Gallen personally confirmed the news and said that he is still friends with his ex-wife. Being a responsible man, he will be giving his HKD10 million condo and also the custody of their son to his ex-wife.

Gallen have known his-wife for a long time, she was his first love and they were together for more than 20 years. Yesterday there were news of Gallen and his wife was divorced, shocking the whole entertainment circle. When reporters called Gallen who was working in Mainland China at the moment, he described his feelings as OK: "Thank you for everyone's concern. I hope everyone can leave some space for me to live in peace. (Don't you feel it's such a pity?) I can only say that my ex-wife and I will always be best friends."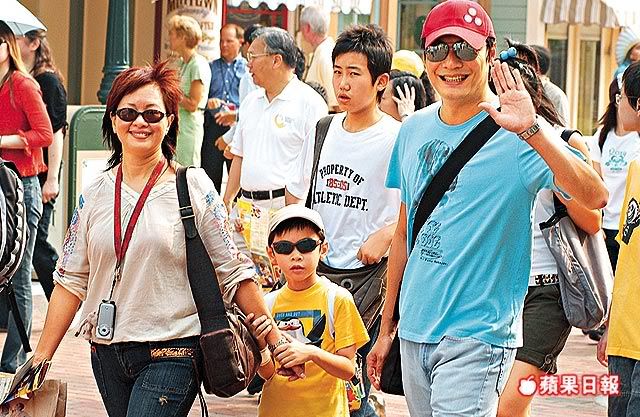 Regarding to his failed marriage, Gallen said that it's due to communication problem. Gallen left TVB in 2003 and often films series in Mainland China; therefore he is constantly away from his wife. But when they meet, they barely spoke to each other. Though they still call each other as "Mr. Lo" and "Mummy", they feelings have faded. Though they tried hard to save their marriage, they still end up with divorce. "We filed for separation early last year and recently finished with the divorce settlements. We are still good friends." About his ex-wife describing their divorce as a form of 'liberation', Gallen agrees: "I understand how she felt. (Is there any 3rd party?) I'm not going to answer anymore! It'll just complicate matters. All I have to say is that the divorce is amicable, and there is no 3rd party involved."



When asked will he be moving out of their condo after their divorce, Gallen evasively answers: "Even though we were separated, we could still live under the same roof, just different room. There's no problem with that as we still have good relationship. (Now that you are officially divorced, will you be moving out?) I will not respond to personal question. (Will you get married again in the future?) I won't answer such assumptive question." Gallen avoids answering sensitive topics but the truth is, he already transferred his HKD10 million condo under his ex-wife's name and he does not plan to fight for his son's custody. He hopes that his son can grow up in the most comfortable environment. "I won't respond on the custody issue, but I still have good relationship with my son. Actually he already accepted our divorce, so all I can say is that we are still good. Our divorce is not something that happened overnight. I am now prepared to concentrate in my work, thank you for my friend's concern."

Additional info from Oriental Daily:

This year November, he will be returning back to TVB to film a 40 episode series, reassuming his position as '1st Brother' again. In addition, his character will be tailor made for him in this grand family series. The story is about brothers' feud and revenge. TVB have also invited Ray Lui and Jamie Chik to act in this series. As for Gallen's female lead, TVB is currently looking for a suitable actress. Gallen's another new series [When Dog Falls in Love with Cat] is going to be aired soon.

If reposted, please give due credit.


I didn't online yesterday, so when I opened KuangaiTVB BBS today, I was shocked to read this news! It came so unexpected! I can't believe it - I feel so depressed right now.

Gallen and his ex-wife dated for 16 years before tying the knot in 1998. There were a lot of criticism on his ex-wife's looks as fans thought she was not pretty enough for Gallen (who was very, very dashing back then - and still does). He was pretty in love with her and she stood by him through thick and thin. It was like a Cinderella story. Though their marriage was rocky in 2002, they managed to worked it out, thanks to Lydia Shum's advise.

I am sad upon reading this news. But divorce is something personal between Gallen and his ex-wife, we should respect their decision. I think that the tabloids should respect Gallen's privacy too by not making up stories of 3rd party, ie. Jessica because I know they will eventually do.

Exclusive interview with Mingpao, credit to Gallen Baidu forum: