[Southcn.com, Dayoo.com, Ycwb.com 31/07/2008]

TVB Dongka Fadan Charmaine Sheh appeared at Guangzhou yesterday to film an advertisement for a jewelery company. She has just signed with HKJure for a 7-figure spokesperson fee. Charmaine is not filming any series and is on holiday break at the moment: "I'm currently on holiday. It's going well as I've been receiving advertisement offers for the past month. I will be filming modern series [Business Doctor] with Dayo Wong in October." When asked about her rumored boyfriends, Charmaine feigned ignorance and said she doesn't know about it.

Charmaine wore a set of red ruby during the event and admits being a fan of rubies. She feels that they are really elegant, though she rarely have the chance to wear them. "I seldom wear makeup when I go out, just putting on a pair of sunglasses. However I will still wear small diamond ear studs."



While filming [Turbulence of East and West], Charmaine was accused to be involved with co-star Joe Ma. To this, Charmaine smiled and said that they are just good friends and regard those rumors as series publicity. Charmaine divulged that the 30 episode [Turbulence] with Liza Wang, Joe Ma and Raymond Wong will be aired soon in late September.

Other than Joe, Charmaine was also rumored to be dating TVB siusangs Raymond Lam and Ron Ng, resulting in a love triangle. The tabloids even took pictures of her wearing matching watches with Raymond. When asked about her relationship with Raymond, Charmaine laughed and denied the rumours: "I've never heard of this."



A lot of celebrities are getting married this year and Charmaine admits being rushed to get married by her 94 years old grandma. "My mum did not rush me, but grandma asked when it's my turn since my little brother is getting married next year. When I was just 19 years old, I received a diamond ring while studying in Switzerland. As I was still young back, I rejected his proposal."

Have she found someone suitable to give her a diamond ring yet? "Nope, do you have anyone to recommend? Haha."

If reposted, please give due credit.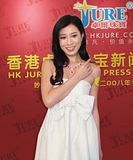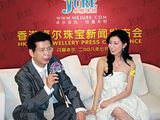 Ooh~ I love it when she have long permed curls. She wore the same dress to Children Song Award and she looks glowing in it!

The jewelery company she signed is HKJure - I'm so happy that the fee is good as this is her fourth spokesperson fee that broke 7 figure sum (apart from Terimee, HKHealth, A-Fontane). How much does Bésilke pays her?

[Turbulence] tentatively set to air September 22, 2008.

Added August 2, 2008:

In another small article related to the interview above, Charmaine divulged a bit on her character in Turbulence: (SPOILERS)

The story is set at the old era Guangzhou. Her character is originally a rich heiress but after her family went bankrupt, she had to sell porridge to make a living. She fell in love with a rich nobleman Raymond Wong and married into his rich family. However, she was ostracized by her mother-in-law Liza Wang due to her poor background. She later ran away from home and begins to have relationship with Joe, Liza's another son in the series.