[Takungpao 26/10/2007]

Charmaine Sheh attended 3D-Gold Jewellery second branch opening in Fuchuan a few days ago. She is the honored guest for the ribbon cutting ceremony along with Vice President Mr. Tse. This was the 6th time Charmaine attended their promotional event in Mainland China, indicating their good working relationship.

For this event, the organizer has specially arranged a set of jewelleries worth over $200k with the title of [花意融榕] to be worn by Charmaine. Charmaine herself have personally designed and prepared a Calla Lilies flower basket as a congratulatory gift to the jewelry shop. She expressed that her career have progressed along with their business, and this year she will be promoting their [花魅] range.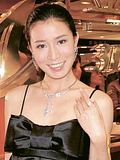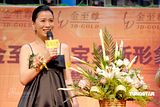 Charmaine indicated that when choosing jewellery, it have to match your individual persona. She feels that a self-confident woman is most beautiful. Be it in making decision regarding jewellery, career and relationship, self-confidence is very important. She has her own philosophy in dressing up; she prefers simple dress matched with jewellery in creating an elegant look. For public event, she usually wears t-shirt and jeans. However, during holiday celebrations such as New Year and friend's wedding dinner, she will wear something more traditional.

If reposted, please give due credit.

Sehseh: Lol... HK press are so slow in reporting TVB artistes news in Mainland China. The event actually took place last week. Anyway, I'm glad that TVB allowed her a break in filming FH2 in order to attend events such as the above and also the upcoming concert in Toronto. TVB artistes can't survive on filming series, the real income come in from product endorsement and outdoor events.

Speaking of product endorsement, I think 3D-Gold should sign Charmaine as their spokesperson in Mainland - she has been attending most of their events their. Kelly Chan can still be their HK spokesperson.

p.s. I think 3D-Gold will be sponsoring her jewellery for TVB anniversary event this year.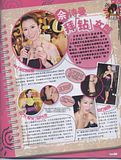 Mag scan for her previous 3D-Gold event.