Clip credit to Bape from Raymond Forest.
Credit to Raymond Forest
[Wenweipo 23/09/2007]

[The Drive of Life] cast members, including Charmaine Sheh, Myolie Wu, Toby Leung, Damien Lau, Raymond Lam, and Ron Ng etc. attended a Mid-Autumn festival promotion held at Olympian City yesterday. They were divided into groups to play games like solving lantern riddles, making glutinous rice ball, decorating fruit basket etc; creating a lively atmosphere.

A tabloid magazine recently published a report regarding TVB artistes' income ranking and Myolie was placed at 4th highest. Myolie smiled and said that she earned quite a lot this year, but feel that it's not all about money, the most important is you are happy with the job. She hopes that her income will continue to increase. At the moment she is placing her money into investment funds, because it's relatively low risk. Myolie regretted not purchasing HSBC shares during SARS period, lamenting that she have wasted a good opportunity to profit.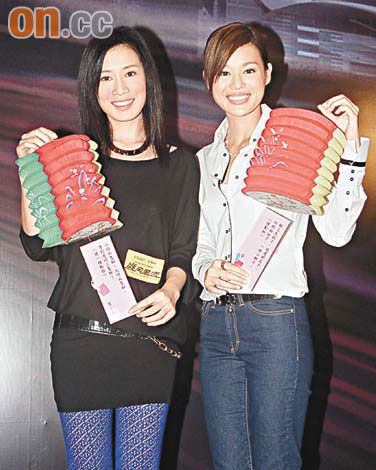 Charmaine revealed that she have received call from Michael Tse informing her their new series [Steel Lips Silver Tooth] is going to be this year's anniversary series. In addition of [DOL], Charmaine will have two entries for this year's Best Actress Award. Although she have confidence, but facing strong competition from Lee Si Kei and Suzanna Kwan, she said it will be difficult to win because [Heart of Greed] have a strong following. In addition Lee Si Kei has a strong on-screen presence. She hopes to work with Lee Si Kei in the future.

If reposted, please give due credit.

Pics: