All in the names
By now, some people are confused why some called the series "Drive of Life" while others refer it as "The Legendary Era". I'm sticking to [Drive] as I believe that is the international title while [Legendary] was Mainland's title.

For example, [The Conquest] was the official title used by TVB internationally, but the Mainland title is [The Heroic Duo], if I'm not mistaken.
TVB8 On set interview: Ray, Damien and Michael

Download the clip
here
.
Credit to Bape @ Raymond Forest.
TVB On set interview: Ray, Myolie & Ellesmere at hotspring
Download the clip
here
.
Credit to Bape @ Raymond Forest.
At the moment, the filming for [Drive] is progressing rapidly. The cast are filming indoor scenes in HK and will only go to Beijing again next year to resume filming outdoor scenes. With that said, mainland cast like Feng Shao Feng (previously known as Feng Wei), is currently filming in HK as well.




Mmm... he look good in suits. Previously in my [Conquest] post, I did mention he resembled Daniel Wu and you know what? He was dubbed as the mainland version of Daniel by fans! Like Ray, Feng Shao Feng really does need to add some healthy weight. Both of them are getting too skinny. Speaking of body, the reason why Ray did some push up before filming in the 2nd clip above was because he want to look buff for his topless scene. Lol...

While Feng Shao Feng is celebrating Christmas with [Drive] crew, other cast like Maggie Chan Mei Kei and Ray get luckier by having a day off.




Maggie will be spending Christmas with her husband and son who just returned from overseas. Actually, her husband doesn't want Maggie to film anymore series but her son manage to convince him. Her son think it's better for her to spend time doing things she like and encouraged her to accept TVB invitation.

Here are some pictures taken during [Drive] filming in Vancouver, credits to Maggie's blog: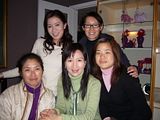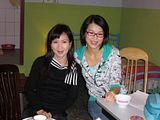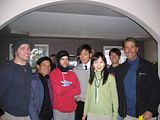 Lol... notice the headline? "Don't mention Benny Chan"

Last week, some newspaper published an article about Charmaine and some of her comments on fellow co-star. It's quite interesting but I kinda forget to translate it. Will post later :)

Some spoiler...
Anyway, she mentioned in the article that her character in [Drive] is not all that nice. Her character is very materialistic and will do anything to get what she want. Because of her family bitter history with Ray's family, she chose the path of revenge.

News update: Leanne Li joins [Drive]

Leanne Li nervous to kiss Michael Wong (Man Tak)

[Orisun.com, Dec 25, 2006]

Earlier, Leanne filmed a passionate kissing scene with Michael for TVB new series [Drive of Life]. It's her first time taking initiative to kiss a guy, and that person is the macho Michael Wong Man Tak. Leanne said she feel nervous, making her a bit tongue tied in her already not so perfect Cantonese. During filming, because her dialogue couldn't flow smoothly, they have to NG twice to complete the kissing scene.

For the previous update of [Drive] filming, please go here.