Download clip

here


Clip credit to Bebe from www.shehsheh.com.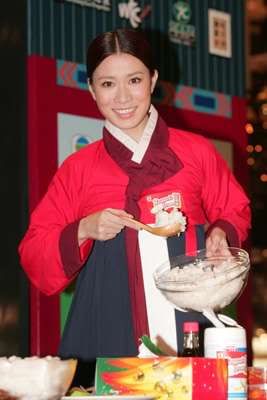 [Ta Kung Pao & The Sun 17/12/06]

Charmaine Sheh was dressed in traditional Korean costume at a promotional event for the animated version of "Dae Jang Geum" at the New World Centre earlier. As well as making picked vegetable sushi, she also played games with the audience and handed out some gifts in an excited atmosphere. Charmaine sings the theme song to the cartoon entitled 'The Crowning of Stars' and she admits she is feeling a little pressure from singing a children's song for the first time, but she hopes that it will bring her a group of young fans. Charmaine reveals that she has an ambition that is to open a kindergarten and watch the children playing happily at school because that would be very satisfying for her. However, she believes that this wish will only happen after she is in semi-retirement.





This is the first time that Charmaine has worn a Korean costume and she feels that it is a lot simpler than the Chinese ancient costumes. Talking of her sushi creation, Charmaine says that her culinary skills are only average, but before she entered showbiz, she had tried to make heart-shaped steak for her boyfriend, but failed. After entering the industry, she has never cooked again with any boyfriend, so she says that she would like to meet a boyfriend who is a good cook.

There were earlier reports that Charmaine was flirting with Raymond Lam, Joe Ma and Ron Ng and suggesting that she even sat on Ron's thigh. Charmaine says angrily that these reports are so pointless, so there is no need to respond. Asked if she was unhappy about the reports, she admits that they did make her a little unhappy.

Translation credit to Em.

More pics: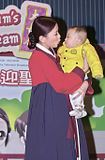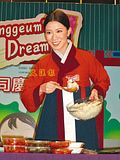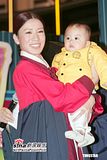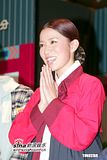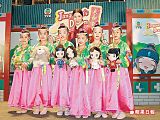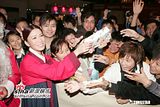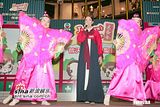 Sehseh: Was it just me or the hanbok Charmaine's wearing is a bit too large for her? Doesn't look flattering on her... TVB should've gotten her a smaller sized hanbok.

Added: Download the DJG theme Charmaine sang [星星的加冕 ]

About that rumor about her sitting on Ron's lap, my goodness, where's the photos to prove it? Ron said that he never went out karaoke with Charmaine. Anyway, this is the rumors I casually mentioned in cbox last week. Nothing special really.

Coming up soon - fantastic pics and clips of Charmaine at Ent Tom's "Hero" Award. Charmaine won one of the Top 4 Fadan award along with Ruby Lin and Liu Yi Fei.