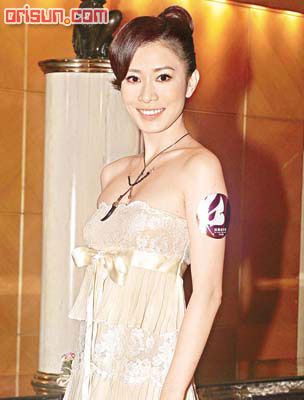 [Chinese source: Sina]

Mainland China golden producer Yu Cheng is preparing to film this year grand series "The Last Princess"《最后的格格》. According to Mr Yu, he is using a huge cast and has already signed 4-5 main artistes, and also in midst of discussion with lead artistes such as Charmaine Sheh, Zhang Ting, Hao Lei, Sun Fei Fei and Alyssia Chia.

Among them, the one that Yu Cheng identify most with is Charmaine Sheh, who starred in his debut independent series; [Carry Me Fly and Walk Away]. This time, Yu Cheng strongly invite Charmaine to act as one of the major character. Charmaine feels happy and expressed that if time permits, she will take part in this series.

At the moment, Charmaine is busy filming CCTV's grand series [Drive of Life]. Yu Cheng expressed that he originally offered the leading actress role; Princess Yun Xiang to Charmaine, but unfortunately because she really doesn't have free schedule. Therefore, Yu Cheng especially created a new role for Charmaine, hoping that she can take time to film it.

Yu Cheng also expressed that if he successfully signed Charmaine, her role will be a glamorous actress, with plenty scenes with Sun Xing. In front of everyone, the character is always smiling, but secretly cried in the background. This will be a challenging character.

Sehseh: I think Charmaine will not take part in this series, since filming start January 2007 while [Drive] filming will only end in April-May. According to current news, the leading role; Princess Yun Xiang has been given to Ady An Yi Xuan (still negotiating). You can read the chinese synopsis here. I won't be translating it unless Charmaine consider guest starring in this series (which is near zero chance, IMO).

p.s. If you have been following my blog since early years, you will know that I hate [CMFWA]. IMO, Mr. Yu's works s*cks, so I really hope Charmaine won't take part.

Follow up news credit to Em:

Charmaine Does not have Time to Play 'The Last Princess'

[The Sun 10/12/06]

Charmaine Sheh is currently busy filming for new series "The Drive of Life" and there were rumours breaking yesterday that renowned mainland writer Yu Zheng has invited her to play the role of Princess Yunxiang in the forthcoming production of "The Last Princess". However, due to clashes of schedules, they are now preparing another role for her portraying a legendary Chinese actress and working opposite Suen Hing.

When the press asked TVB executive Virginia Lok for confirmation of this, she says she does not know about this at all because Charmaine is currently busy filming for 'The Drive of Life', so she will only finish this in May of next year and there is no way she can take on any other series during this time.