Note: Em has translated a fantastic write up for the anniversary, so if you are interested, kindly visit her site for full news. I will only post Charmaine's part here.

[Ta Kung Pao, Wen Wei Po & The Sun 20/11/06]



Charmaine and Kevin lead the way as this year's Best Actor and Actress.

A huge gathering of TVB's best joined together for the TVB 39th Anniversary Extravaganza show yesterday and at the helm were the Masters of Ceremonies - Liza Wang, Eric Tsang, Carol cheng, Nat Chan, Anna Yau and Amigo Chui. The show was kicked off with a lighting up ceremony led by TVB boss Sir Run Run Shaw, accompanied by Miss Hong Kong 2006 Aimee Chan and TVB Big Sisters Liza and Carol. The artistes then performed an opening number entitled 'Gathering of Stars at the Forefront' dressed in ancient, Nationalist and modern costumes.
Added:

"Jade Celebrity Hall"

When Charmaine first saw the bag, she quickly grabbed the feather duster to warn Nat but Eric took it away. I was squemish when I saw something moving in the bag, it was a snake! Eww! Of course Charmaine ran like a rabbit.

For the comedy sketch highlight of the show, it took the form of a "Jade Celebrity Hall", where Eric, Alan and Nat played visitors to a waxworks exhibition and the leading males and females had to play waxworks, whilst the 'visitors' did their worst to play tricks on them. Originally, Moses Chan and Bernice Liu were separate, but Bernice was carried over to Moses and positioned to lean against his chest and even to kiss each other. Alan gave Gigi Lai a fright when he threw out a fake cockroach and they also pulled away Kenny Wong's top, but when they did not reveal his muscles underneath, Eric took his trousers off instead. Fortunately, he stretched his legs apart to avoid them falling down completely. Alan then coloured in one of Roger Kwok's teeth and poked a pencil up his nose, whilst Bowie Lam was subjected to being sprayed with water and ink before being smeared with a mop by Eric. Nat then frightened Charmaine with something wriggling in a bag, making her take a step back and when he threw the bag at them, both she and Gigi jumped up and screamed. Eric even went as far as writing on Sonija Kwok's chest as he smiled to himself: "There is good texture here!" The 'waxworks' got their revenge on the visitors in the end but Alan and Nat ran away, leaving Eric trapped as everyone reaped sweet vengeance.



Far right: Gigi and Sonija admiring Charmaine's jewelleries. Diamonds are girl's best friend... lol..

Charmaine's two sets of jewellery were worth a total of $9 million and Sonija Kwok wore a 50 carat diamond necklace worth $2.6 million, sponsored by Chow Tai Fook. Gigi Lai wore diamonds totalling 250 carats, worth $3 million to go with her white evening dress. Bernice's diamond earrings, watch and bracelet were worth $1 million and she also spent $5000 on six of her fingernails that featured the TVB logo. The men also did their part as Eric wore a diamond watch worth $1.6 million and Bosco wore a watch worth $800,000.

As the show opened, good friends Charmaine and Sonija were chatting away, leaving Shirley Yeung standing to one side. Aimee Chan seemed to disappear from Sir Run Run's side straight after the opening ceremony, but Carol and Liza showed their quick thinking as they rushed over to speak to him as Carol said: "Long Time No See" and Liza showed him the right direction to go.

Translation credit to Em.

Pictures highlight:


*More pics can be found at Sina's site here.

Sehseh: This year's anniversary is not bad, due to the absence of tension as the awards has been given out last week. The anniversary skit is funny, though I think it's a bit too much. Poor Kenny and Kevin, they're are publicly molested. How embarrasing also for the ladies.

I don't have the sales presentation clip yet, but you can find them at MetalAZNWarrior's site. Rest assured that I will post the 11 clips here along with my little review as soon as I get my hands on them :)

By the way, here's some really belated magazine scans featuring Charmaine. A must have for fans - so gorgeous!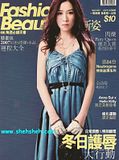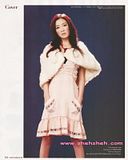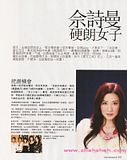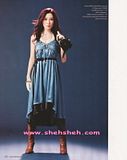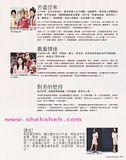 Credits to Bebe from www.shehsheh.com.

And as a reward for reading this post to the end, here is an interview clip of Charmaine with Cha Siu Yan after winning the Best Actress award. It's quite long (more than 10 mins) and you will get to listen to Charmaine's real feelings.

Download here.