news courtesy of
http://tvbspacenews.blogspot.com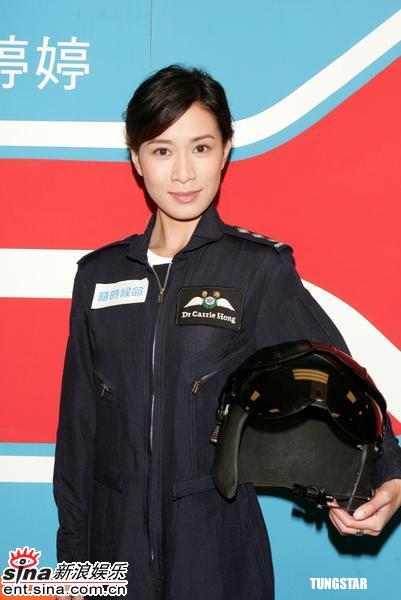 [Ta Kung Pao 27/01/05]
TVB's new series "Always on Standby" held its costume tryout yesterday and cast members present included Ekin Cheng,
Charmaine Sheh
, Bowie Lam, Shirley Yeung and Linda Chung. They all wore a smart uniform and Production Department Deputy Director Catherine Tsang was also present to watch over the proceedings.
Catherine indicated that they have received 100% support for filming from the Hong Kong Government Flying Services on the condition that they will not interfere with the normal emergency work of the teams. Even if they are in the midst of filming, if there is a call for the team to go on a rescue, then the crew must stop work immediately and as a result the plan is that filming the 30 episodes will take around 4 months. She says: "We have not allowed the cast members to take time out from their schedules and have prepared a backup, so if Plan A is delayed, then we can film Plan B and not affect filming progress."
Since filming "Face to Face" with TVB six or seven years ago, TVB has been offering Ekin series scripts, but he has not had time and this has fallen through on numerous occasions. When Catherine mentioned this series to him, he felt that the theme was quite fresh and it needed a brave artiste who was willing to go and do all his own scenes, this fitted the bill for Ekin and he immediately agreed to it. He even cut off his mop of long hair to show how serious he was for the role. In order to meet the challenge, Ekin has undergone a special training course last year. He laughs: "I feel that I should actually go and work for the flying services, but I am not educated enough." As for the need to climb mountains and enter the sea to rescue people in the show, even going out as far as an oil rig, is he worried about the danger? Ekin smiles: "It should be safer than shooting movies! (Catherine is not allowing cast to take time to do other things, will this affect your other work?) No, because I have already set out my schedules." Originally, Ekin owed TVB 20 episodes from an earlier contract, so not only has he repaid his debt, he has exceeded it this time. When asked if he will be singing the theme tune, he says this is still in discussion.
Charmaine has just returned from filming "Yummy Yummy - Food For Life" in Singapore and only arrived in Hong Kong two days ago. In the new series, she plays a doctor in ER, who volunteers to help with the Government Flying Services at the weekends. She will also have romantic affairs with Ekin and Bowie in the show. As for all the previous female artistes who have worked with Ekin having nothing but praises for him, Charmaine laughs: "I can see for myself whether or not he is so good this time!" With many rumours of animoscity between Charmaine and Shirley whilst filming for "Angels of Mission", Charmaine indicates that there should not be too many rumours this time because they do not have too many scenes together and laughs: "It was all just publicity before anyway." In the series, her character will be in a car accident and fall into a coma, so she plans to either cut her hair short or even cut it all off. When it was mentioned that her good friend Sonija Kwok seems to have had a downturn in her luck after cutting her hair, Charmaine was asked if she was afraid of the same thing happening to her, but she replied that it is not related.
Bowie will be playing a Class I pilot in the show and he laughs that this will be more comfortable than Ekin because he is only responsible for flying the helicopter, whereas Ekin has to get wet through during the rescues. Bowie has also been through special training for the show, but he can only pretend to fly the helicopter and not do it for real. Bowie says that he has thought about applying for a helicopter licence, but he does not know how much the lessons will cost. He also says happily that he gains a lot of good from each of his shows as last time he learned to dive and this time he has learned how to fly a helicopter, so he can really handle land sea and air!
http://www.takungpao.com/news/2005-1-27/UL-358568.htm
special credit to Qingwa from cinple forum