If you never watches TVB series, chances are, you might don't know who's Charmaine Sheh.
She is my favorite actress and I have to confess I'm a bit obsessed about her ;)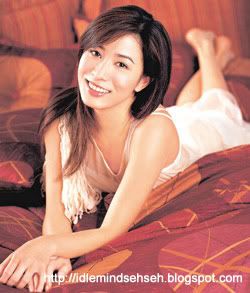 Profile
English Name: Charmaine Sheh See Man
Chinese Name: 佘诗曼
Nickname: Ah Sheh, Snake
Date of Birth: May 28, 1975
TV SERIES:
Time Off
The Flying Fox of the Snowy Mountains 1999
Detective Investigation Files IV
Crimson Sabre
The Heaven Sword and Dragon Sabre 2000
Return of the Cuckoo
A Herbalist Afffair
Seven Sisters
Country Spirit
The White Flame
Witness To A Prosecution II
Perish In The Name Of Love
Life Begins at Forty
Qianlong
Carry Me Fly and Walk Away
Point of No Return
Angels of Mission 3D
War and Beauty
One Beautiful Spear - releasing soon
Lethal Weapons of Love and Passion - unreleased
Food For Life - filming
Always on Standby - commence filming in Feb 2005

TELEMOVIES:
The Final Shot

MOVIES:
Perfect Match
Blue Moon
Love Is A Butterfly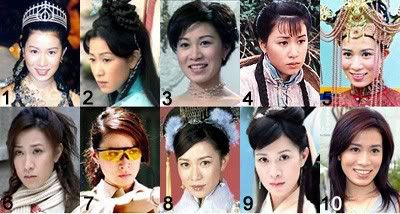 Caption1
Taken from Starz Galore owned by Seagull.
Charmaine won 2nd runner up in the 1997 Miss Hong Kong. Virginia Yung Ga Shui was the winner and Vivian Lee Ming Wai was the 1st runner-up.

When it was announced by the MC "The 2nd runner up is...number 11 Charmaine Sheh See Man", from this moment Charmaine changed from a Switzerland hotel management graduate to a Miss HK, then an actress. It seemed like it was an easy stardom, but when she was in the semi-final, she was not considered a popular candidate at all. She was termed as "black horse" (meaning not a hot winner). Charmaine laughed "I have a passive personality. I don't know how to express myself well. Also in my year, there were lots of good candidates like Virginia Yung Ka Shui, Vivian Lee Ming Wai, Christine Au Yeung Miu Chee etc. Not a lot of people noticed me a lot."

Caption 2
Early one in her career, Charmaine has been cast beauty roles in her series*. She starred in 3 Jin Yong novel adaptations:
1. Miew Yuerk Lan in Flying Fox On Snowy Mountain – a lot of people actually mistook this as her debut role. Her real debut role was Time Off. Anyway, Charmaine acting was still very raw in here.
2. As Princess Cheung Ping/ Ah Gau in Crimson Sabre – her first villainess role. Another beautiful face role; significant improvement compared to DIF4.
3. As Zhou Zhi Ruo (pic) in Heavenly Sword Dragon Sabre – I have to say she look incredibly beautiful here as the angelic looking but evil Zhirou. My favorite Zhou Zhi Rou to date. Gao Yuan Yuan version looked too fierce as Zhirou was supposed to be soft and gentle looking.
*A lot of TVB producer and director feel that Charmaine's look is more suitable as period maiden compared to modern roles.

Caption 3
Charmaine won her first TVB Favorite Character Award for her role as Chuk Kwan Ho in Return Of The Cuckoo. She also won the coveted Best Partnership award with Julian Cheung – their chemistry left rumors sparking between them. They collaborate again in two movies; Perfect Match and Blue Moon. In 2003, Julian – Charmaine fans (including myself) were delighted to see them in Point of No Return.


Caption 4
I basically fell in love with Charmaine after watching her performance in Country Spirit as Lai Shun Fung. Her acting has increased dramatically and was nominated as TVB Favorite Actress. Even leading actors and host such as Gallen Lo and Priscilla Ku openly praised her during award presentation. I was greatly disappointed when she lost the award to Lisa Wang.


Caption 5
Perish In The Name Of Love spawned a lot of Steven – Charmaine fans. During this period, Charmaine accidentally scarred her chin and filming was delayed for a while. Charmaine never went for cosmetic surgery to get rid off the scar – it was quite prominent in close up scenes (all her series after this). Since White Flame, she's been plagued by a series of bad luck – involved in car accidents; and getting her driving license suspended.

Caption 6
Charmaine starred in two mainland production; Carry Me Fly Walk Off and Qianlong. She was paired off with Benny Chan in both series. They were rumored to be going out (perhaps…) and getting engaged (not true!). Charmaine repeatedly denied Benny Chan as her boyfriend therefore I won't consider him as!

Caption 7
Fa (Angels of Mission 3D) is my favorite Charmaine role after Country Spirit. This role is a departure of her usual feminine, soft roles. In short, Charmaine kick ass! I also enjoyed her chemistry with Stephen Au – imagine my excitement when they're set to pair again in Strike At Heart 驚艷一槍 (releasing this weekend!). This series created some bad rumors about Charmaine and Sonija Kwok bullying Shirley Yeung – basically nothing but crap. To my (and many people) horror, Shirley won Most Improvement Award – excuse me, MOST IMPROVED? TVB has strange definition of 'improvement'. GAH!!!
Caption 8
Again, Charmaine rocks! This was her 3rd villainess role – and I really enjoyed her character slyness (in fact, I prefer the evil Yee Shun). She was also extremely beautiful in here though wearing considerably less make up than the other 3 female leads. A notch up on her crying skill.

Caption 9
Oops, Charmaine starting to complain that she was too busy to update her wardrobe after filming 3 costume series consecutively. The best thing about filming costume series was the wardrobe was provided by TVB itself. In fact only a small portion of the clothes in modern series were sponsored, the cast was expected to provide their own wardrobe – therefore Charmaine hope her next few series will be a modern one.
This is her first role in Huang Yi's novel adaptation; Lethal Weapons of Love and Passion 覆雨翻云. She will be paired up with Raymond Lam as Chun Mung Yiu with Fung Hung Lit respectively.
Caption 10
LOL… Charmaine wish was granted and she's currently filming modern series Food For Life (previously titled Yummy Yummy). This collaboration between TVB and Singapore Channel U is expected to air by June 2005. The rest of TVB cast are Raymond Lam, Kevin Cheng, Tavia Yeung, Carlo Ng, Eileen Yeow etc. After this Charmaine will be filming another grand production alongside Ekin Cheng and Bowie Lam in Always On Standby 随时待命. This time her role is a doctor.

special credit to Csheh & da azn devil for correcting me